Steel Structure Warehouse Building 04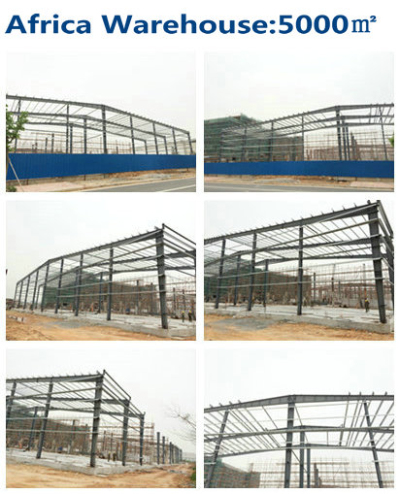 Required Shear Strength
For all building columns including those not designated as part of the SFRS, the required shear strength of column splices with respect to both orthogonal axes of the column shall be Mpc/H (LRFD) or Mpc /(1.5H) (ASD), as applicable, where Mpc is the lesser nominal plastic flexural strength of the column sections for the direction in question, and H is the height of the story.
There are no limitations on width-to-thickness ratios of members for OMF, beyond those in the Specification. There are no requirements for stability bracing of beams or joints in OMF, beyond those in the Specification. Structural steel beams in OMF are permitted to be composite with a reinforced concrete slab to resist gravity loads.
1、Steel Structure Material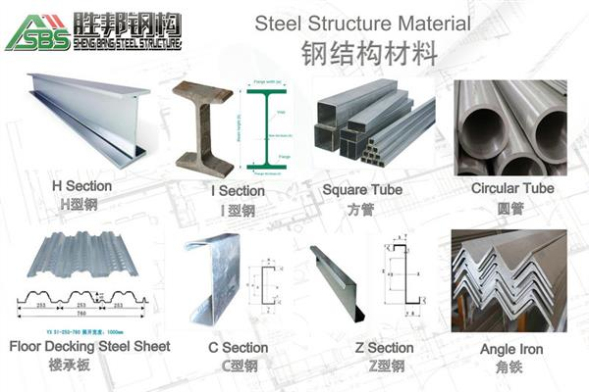 1)H section steel
H type steel is an economic efficient section material with optimized cross section area allocation and more reasonable ratio of strength to weight. It is named because of its letter "H" cross section.H-beam is divided into:HW(the flange wide type),HM(the flange middle type),HN(the narrow flange type),HT(thin-wall h-beam type),HU(H section steel pile type). Since its different parts are of orthogonal configuration, h-beam has advantage of good bending capacity, simple construction, cost saving and structure light weight etc., has been widely used.
Fyb = specified minimum yield stress of the beam flange, ksi (MPa)
Fyc = specified minimum yield stress of the column flange, ksi (MPa)
Ryb = ratio of the expected yield stress of the beam material to the specified
minimum yield stress
Ryc = ratio of the expected yield stress of the column material to the specified
minimum yield stress
bbf = beam flange width, in. (mm)
tbf = beam flange thickness, in. (mm)
tcf = minimum required thickness of column flange when no continuity
plates are provided, in. (mm)
2、Product details
| | |
| --- | --- |
| Main structure | Steel Welded H Section |
| Purlin | C Section Channel or Z Section Channel |
| Roof Cladding | Sandwich Panel or Corrugated Steel Sheet with Fiber Glass Wool Coil |
| Wall Cladding | Sandwich Panel or Corrugated Steel Sheet |
| Tie Rod | Circular Steel Tube |
| Brace | Round Bar |
| Column & Transverse Brace | Angle Steel or H Section Steel or Steel Pipe |
| Knee Brace | Angle Steel |
| Roof Gutter | Color Steel Sheet |
| Rainspout | PVC Pipe |
| Door | Sliding Sandwich Panel Door or Metal Door |
| Windows | PVC/Plastic Steel/Aluminum Alloy Window |
| Connecting | High Strength Bolts |
| Packing | Can be loaded into 40ft'GP/HQ/OT, or 20 ft'container. |
| Drawing | We can make the design and quotation according to your requirement or your drawing |
3.Advantages
1) Features: fast and flexible to assemble, safe, thermal and noise insulation, water proof and fire prevention;
2) Cost-effective: Fast and easy installation greatly shorten the construction time which reduce the costs;
3) Durability: The whole structure is easy in maintenance, which can be used for more than 50 years.
4) Perfect design: Perfect design completely avoids leaks and water seepage. Meanwhile, it's also in line with the national level of fire prevention.
5) Carrying capacity: can resists the impact of strong wind and seismic performance and bears heavy snow loads.
Due to the above advantages, combination of light china steel building structures in construction engineering, railway, petrochemical industry, water conservancy construction highway construction and military engineering and earthquake relief in the fields of temporary is widely used in construction.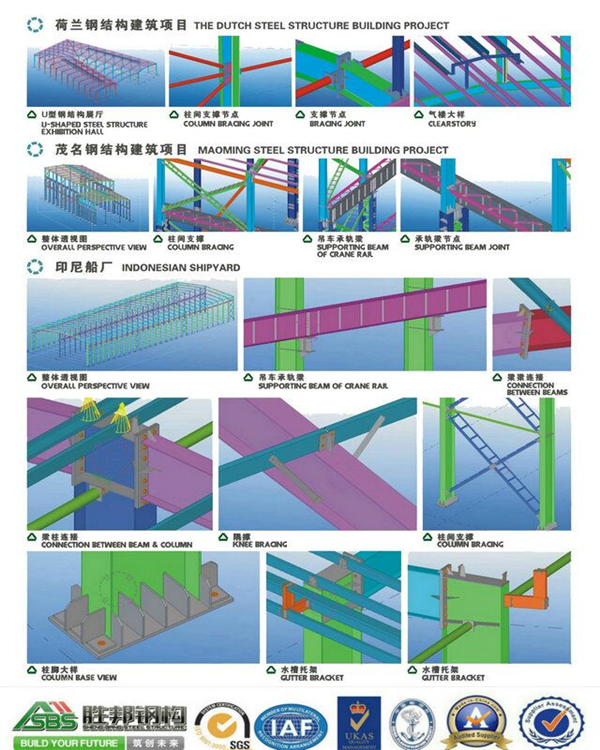 4.Company Profile:

Foshan Shengbang Steel Structure Co., Ltd.Possesses professional large-scale steel structure production equipments and the automatic spraying production
line, so we can satisfy the different customers demand.We takes "build your future" as mission and takes company growth as premise.The company has trained many
high quality marketing personnel, professional technician and construction workers.We take the customers' demand as the guidances, then provide reasonable,
scientific and effective solution for customers.We regard practical growth, innovationand group solidarity as our company spirit, so that we can offer all round service to customers.