Large span steel structure
The first construction of china mechanical industry company-oman warehouse
specification:30m*80m*6m(W*L*H)+17.1m*12m*3m---2605㎡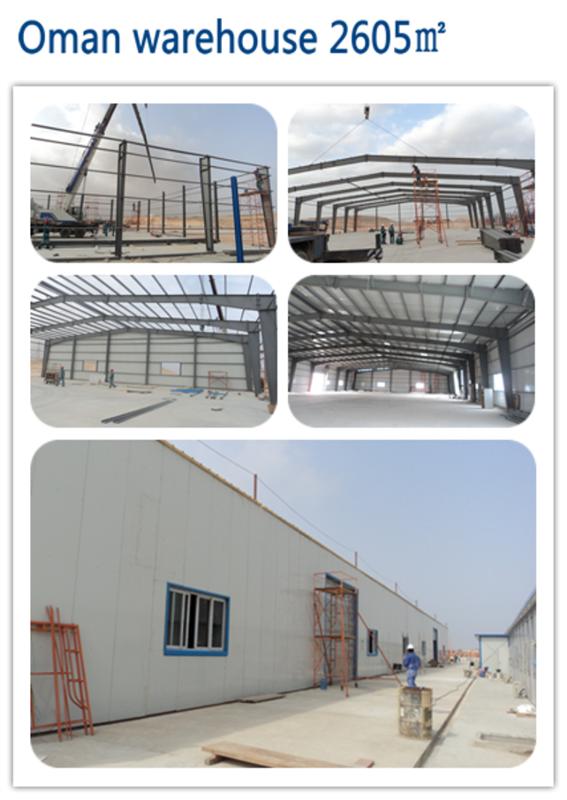 Steel shall be furnished according to the following specifications. Unless otherwise specified, structural carbon steel shall be furnished.
A. Carbon Steel: Structural carbon steel for bolted or welded construction shall conform to, AASHTO M270 (ASTM A709) grade 36 (grade 250).
B. Eyebars: Steel for eyebars shall be of a weldable grade. These grades include structural steel conforming to Structural Steel, AASHTO M270 (ASTM A709) grade 36 (grade 250) or
AASHTO M270 (ASTM A709) grade 50W (grade 345W) with supplemental requirement S3 of AASHTO M270 grade 50W (grade 345W) mandatory.
1. The detail material for the steel structure
The steel structure material is included the H section,I section,Square tube,Circular Tube,Floor decking steel sheet,C section,Z section,Angle iron , Steelbar ,Steel plate.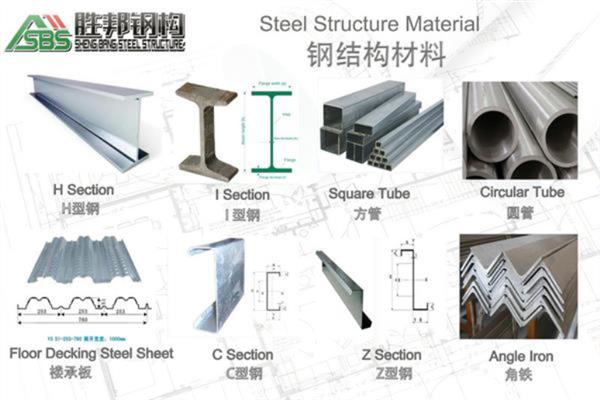 1)There are various types of H-beam,including:The flange wide type (HW),The flange middle type (HM),The narrow flange type (HN),Thin-wall h-beam type (HT),H section steel pile type (HU)
2)About H section steel
H type steel is an economic efficient section material with optimized cross section area allocation and more reasonable ratio of strength to weight. It named because of its letter "H" cross section,Because its different parts are of orthogonal configuration, h-beam has advantage of good bending capacity, simple construction, cost saving and structure light weight etc., has been widely used.
2. PRODUCT DETAILS
| | |
| --- | --- |
| Main structure | Steel Welded H Section |
| Purlin | C Section Channel or Z Section Channel |
| Roof Cladding | Sandwich Panel or Corrugated Steel Sheet with Fiber Glass Wool Coil |
| Wall Cladding | Sandwich Panel or Corrugated Steel Sheet |
| Tie Rod | Circular Steel Tube |
| Brace | Round Bar |
| Column & Transverse Brace | Angle Steel or H Section Steel or Steel Pipe |
| Knee Brace | Angle Steel |
| Roof Gutter | Color Steel Sheet |
| Rainspout | PVC Pipe |
| Door | Sliding Sandwich Panel Door or Metal Door |
| Windows | PVC/Plastic Steel/Aluminum Alloy Window |
| Connecting | High Strength Bolts |
| Packing | Can be loaded into 40ft'GP/HQ/OT, or 20 ft'container. |
| Drawing | We can make the design and quotation according to your requirement or your drawing |
3. Transportation
Steel structure is mainly composed of steel column, steel beam, steel frame and the rigid support and so on, so steel structure component volume is larger, The mainly transportation for export is as follow:
1)40'HQ and 40'open top container
In general, after customer order, our engineering technology department design the steel structures will be according to the 40 'HQ and 40' open top container inside size to design the shipment, in most cases, we use 40 'HQ and 40' open top shipping container shipment to pack steel structures.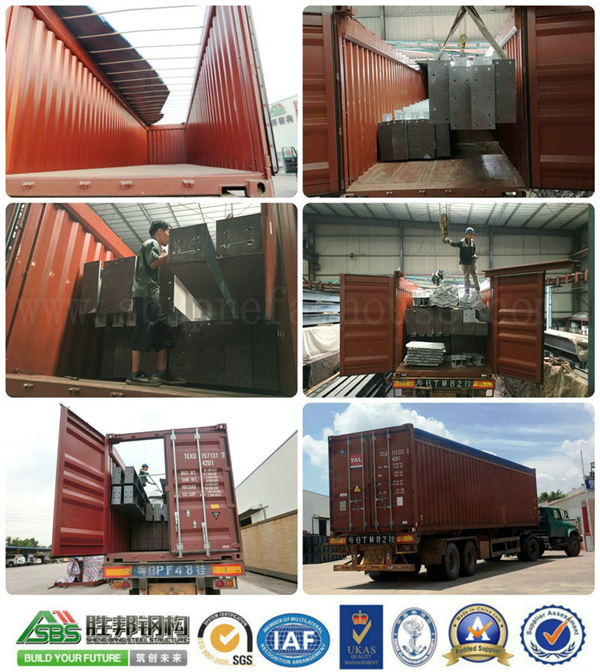 2)Break bulk
At special circumstances, some large construction size will be more than 40 'HQ and 40' open top containers internal dimensions, we suggest customer use trucks, flatbed trailer etc to transport the large construction component to the pier from the factory, then ship by port lifting, so while booking space,customers should book the break bulk. We will cooperate with the customer to provide them the size and weight of the goods, in order to book a reasonable space.
Remark:
When components are shipped to the site, due to various reasons of transport may cause component deformation (generally for bending, damage to the paint film, etc.), can be in the scene to correct, at present the correction method is generally divided into cold straightening and hot straightening.
For bending component, do the mechanical gagging with oil pump, also can use flame (C2H2 and pure oxygen mixed) to the hot straightening, after correction, the paint film that damaged must be repaired.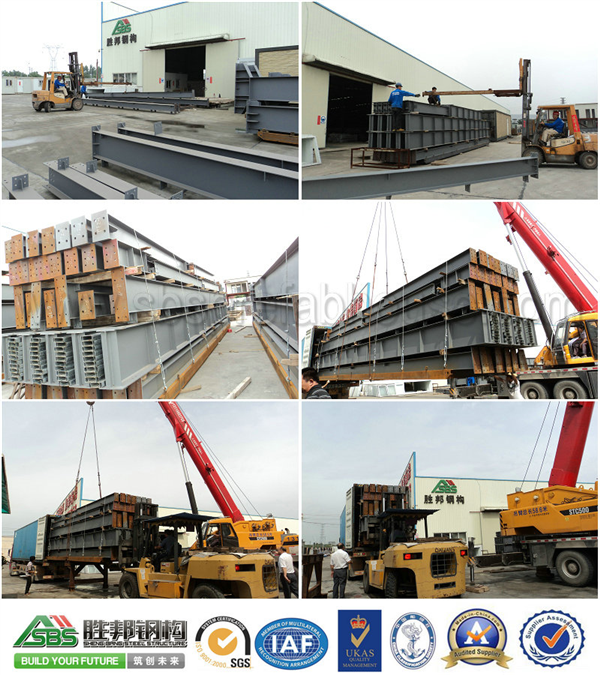 Company Profile:

Foshan Shengbang Steel Structure Co., Ltd.Possesses professional large-scale steel structure production equipments and the automatic spraying production
line, so we can satisfy the different customers demand.We takes "build your future" as mission and takes company growth as premise.The company has trained many
high quality marketing personnel, professional technician and construction workers.We take the customers' demand as the guidances, then provide reasonable,
scientific and effective solution for customers.We regard practical growth, innovationand group solidarity as our company spirit, so that we can offer all round service to customers.