Australian miner container house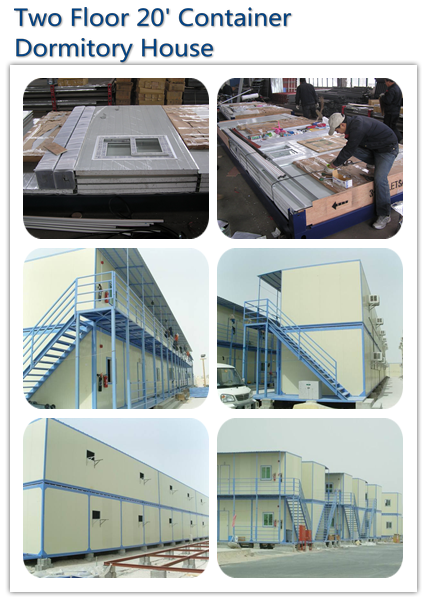 1.Steel Structure material introduction
H section steel
H type steel is an economic efficient section material with optimized cross section area allocation and more reasonable ratio of strength to weight. It is named because of its letter "H" cross section. Since its different parts are of orthogonal configuration, h-beam has advantage of good bending capacity, simple construction, cost saving and structure light weight etc., has been widely used.
H-beam is divided into:
The flange wide type (HW)
The flange middle type (HM)
The narrow flange type (HN)
Thin-wall h-beam type (HT)
H section steel pile type (HU)
C steel was processed after hot rolling and cold bending. Its characteristics are: thin wall, light weight, good cross section performance, high strength (compared with the traditional steel) and can save 30% materials compared with the equivalent steel.
C type steel is widely used in purlin and wall beam steel structure building, also can combined into lightweight roof, carrier construction, etc. In addition, it can also be used for machinery and column, beam and arm light industrial manufacturing.
2.Australian miner container house
Our company has the biggest heavy rail-mounted automatic spraying production line in Chu Chiang Delta. The spraying equipment introduces advanced german automatic powder coating operation technology, the single hangers weight is 1000KG, and the total weight that track can load reaches to 100 tons. We can process various kinds of heavy hardware machinery,enguneering guardrail,light pole,elevator accessories, steel structure workshop,distributor box and other large steel structure part that are less than 4 tons. The processing dimension of hardware accessories is withmin 12 meters*1 meters *3.7 meters(length * width * height).
process of automachine powder coating line
automatic powder coating machine→dust removing by high-pressured air gun→steel structure powder coating→rail-mounted automachine spraing production line→powder coating producing→hanger the steel cpmponent
3. Product detials
1.Opinions

1) We can supply all kinds of steel structures, steel building, metal building, modular house, steel frame for warehouse, workshop, garage etc, steel beams, other riveting and welding parts.

2) We can also make and develop new parts according to customers' drawings and detailed dimensions.

2. Specifications

1) Size: MOQ is 200m2, width X length X eave height, roof slope

2) Type: Single slope, double slope, muti slope; Single span, double-span, Multi-span, single floor, double floors

3) Base: Cement and steel foundation bolts

4) Column and beam: Material Q345(S355JR)or Q235(S235JR) steel, all bolts connection! Straight cross-section or Variable cross-section

5) Bracing: X-type or V-type or other type bracing made from angle, round pipe, etc

6) C or z purlin: Size from C120~C320, Z100~Z200

7) Roof and wall panel: Single colorful corrugated steel sheet 0.326~0.8 mm thick, (1150 mm wide), or sandwich panel with EPS, ROCK WOOL, PU etc insulation thickness around 50 mm ~ 100 mm.

8) Accessories: Semi-transparent skylight belts, Ventilators, down pipe, Galvanized gutter, etc

9) Surface: Two lays of Anti-rust Painting

10) Packing: Main steel frame without packing load in 40'OT, roof and wall panel load in 40'HQ

3. Design Parameters

If you need we design for you, pls supply us the following parameter together with detail size

1) Live load on roof (KN/M2)

2) Wind speed(KM/H)

3) Snow load (KG/M2)

4) Earthquake load if have

5) Demands for doors and windows

6) Crane (if have) , Crane span, crane lift height, max lift capacity, max wheel pressure and min wheel pressure!



4. Guidance installation
Shengbang Steel Structure Company can supply the guidance installation service.Usually steel structure building is a large installation engineering. If customers may need the professional technical engineer to supervise the installation on site overseas, the customer must to inform before 1 months from leave the China . But customer should coordinate with us for following aspects:
Customer should provide:
1) Translator or assistant on site.
2) All costs raised including:
A. visa fee
B. Round trip flight ticket
C. Accident insurance for the supervisor during the period
D. Accommodation
E. Daily meals
F. Internet
G. Local traffic fee (if any)
3) The customer should pay the engineer with supervision fee, which can be negotiated and decided by both.
4) Customer has the responsibility to provide necessary security system to protect the supervisor, especially in someunrest countries.
There have some guidance installation picture: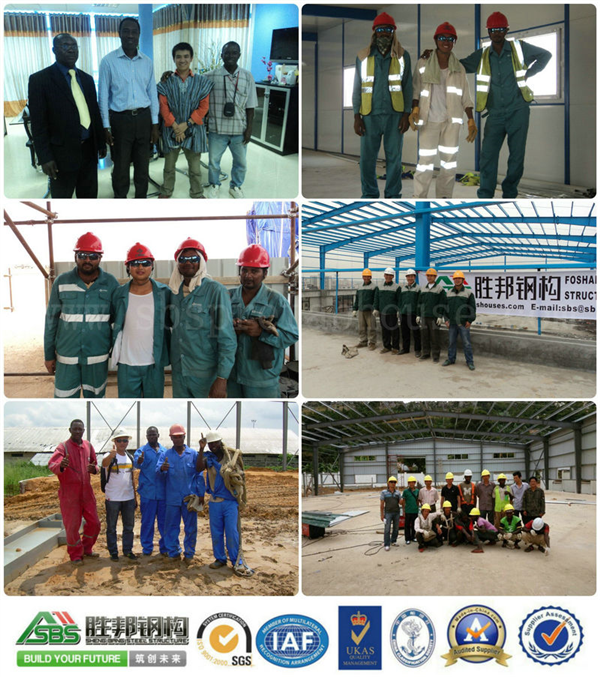 Company Profile:

Foshan Shengbang Steel Structure Co., Ltd.Possesses professional large-scale steel structure production equipments and the automatic spraying production
line, so we can satisfy the different customers demand.We takes "build your future" as mission and takes company growth as premise.The company has trained many
high quality marketing personnel, professional technician and construction workers.We take the customers' demand as the guidances, then provide reasonable,
scientific and effective solution for customers.We regard practical growth, innovationand group solidarity as our company spirit, so that we can offer all round service to customers.