steel structure aircraft
We produce all sizes of airplane hangars to accommodate your craft. Our steel frames support large spans and height for clearance. Bi-folding doors,swing out,or sliding doors can be engineered into the aviation building frame. We also have available the very best of quality engineered bi-fold door systems. We can provide you a free, accurate quote usually within 1-3 business days if you have working architectural drawings. We can also help with design if needed for a reasonable fee. We price our buildings economically without sacrificing engineering integrity or safety.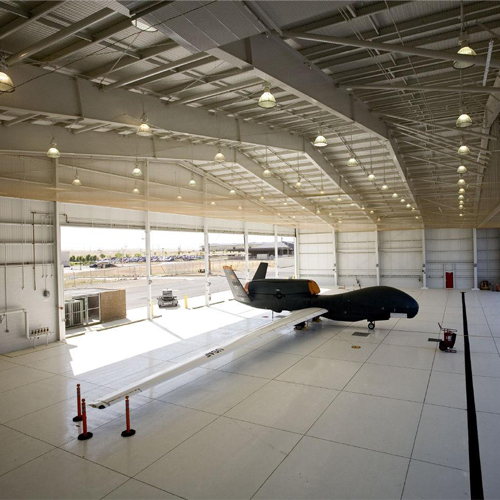 1、Product Detail information
1)steel structure aircraft material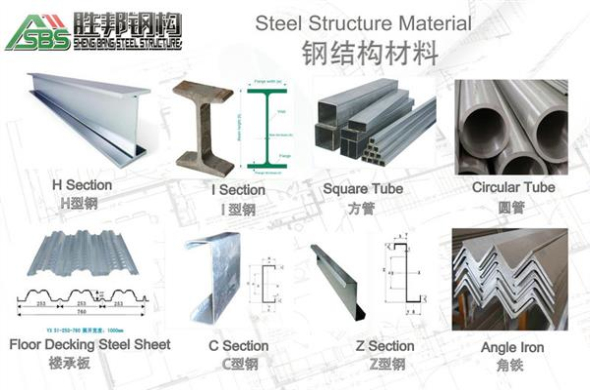 Car lifts have long been one of the most important investments a professional automotive shop or garage can make. With the recent unexpected boost in automotive business sector, consumers are even more likely to repair and service their vehicles rather than purchase a new one. It's never been more important for auto body shops, quick lube stations, car dealerships and car rental businesses to have the most reliable car lifting equipment to suit the needs of their customers.
The Advantage of steel structure aircraft as follows:
1) Light Deadweight ,large span,great strength.
2)Finished Quickly,fast construction.
3) Anti-fire,anti-rust.
4) Green building,enveronmental protection.
5) Easily Installation ,save manpower.
2.product details
Product Name

Prefabricated Steel Structure Building

Specification

Foundation

Concrete and Steel

Support

X or V types, angle steel or round tube

Surface

Two layers and anti-rust paint

Color

White, Grey, Blue, Green, etc

size

Designed by your requirement

Advantages

1. Stable Construction
2. Anti-seismic performance
3. Aesthetic appearance
4. Short construction period
5. High-speed installation
6. Life span durability
7. Environmental-Friendly product
8. Energy saving

Main component

Base materials

Cement and steel foundation bolts

Main frame

H beam (welded or hot rolled)

Material

Q35B,Q345B

Purlin

C purlin (C120-320) or Z Purlin (Z100-200)

Bracing

Tie bar, lateral bracing, column bracing, knee bracing, etc

Bolt

Normal bolt, high strength bolts, Galvanized bolt

Roof & wall

Sandwich panel, steel corrugated sheet

Door

Sliding door , rolling shutter

Window

PVC window, aluminum-alloy Window

Accessories

Skylight, ventilation, downpipe and galvanized gutter etc .
3、Introduction of steel hangar

1) the structure is constructed of steel or galvanized steel.
2) the size of the different parts and components of the modular steel garage will require different spans.
3) wall panels and roof available plate or sandwich panels, in which there are many different prices and features.
4) sandwich panel insulation layer may be made of different materials, such as glass wool, polyurethane, rock wool, which have varying levels of insulation.
5) There are steel buildings steel columns, steel beams, steel and rigid support, etc., and therefore the volume of steel member larger buildings.
4.steel structure design common specifications are as follows:
1) "technical specification for cold formed steel structures" (GB50018-2002)
2) "just construction quality acceptance" (GB50205-2001)
3) "for the welding of steel structure technical specification" (JGJ81-2002-2002 J218)
4) "technical specification for steel structure of high rise civil building" (JGJ99-98)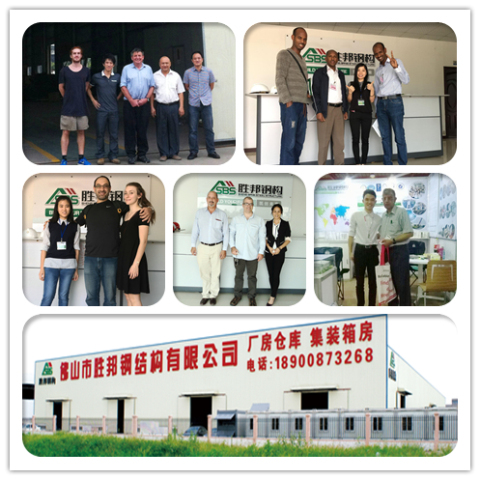 Buckling-restrained braced frames (BRBF) are a special class of concentrically braced frames. Just as in SCBF, the centerlines of BRBF members that meet at a joint intersect at a point to form a complete vertical truss system that resists lateral forces. BRBF have more ductility and energy absorption than SCBF because overall brace buckling, and its associated strength degradation, is precluded at forces and deformations corresponding to the design story drift. See Section F2 for the effects of buckling in SCBF. Figure C-F2.1 shows possible concentrically braced frame configurations; note that neither X-bracing nor K-bracing is an option for BRBF. Figure C-F4.1 shows a schematic of a BRBF bracing element (adapted from Tremblay et al., 1999).
Company Profile:
Foshan Shengbang Steel Structure Co., Ltd.Possesses professional large-scale steel structure production equipments and the automatic spraying production
line, so we can satisfy the different customers demand.We takes "build your future" as mission and takes company growth as premise.The company has trained many
high quality marketing personnel, professional technician and construction workers.We take the customers' demand as the guidances, then provide reasonable,
scientific and effective solution for customers.We regard practical growth, innovationand group solidarity as our company spirit, so that we can offer all round service to customers.