Steel repository
Place of origin : Guangdong,China
Model Number : Steel structure SR
Price Terms : FOB price
Payment Terms : By T/T
Package : Seaworthy
Minimum Order : 1 set
Delivery Time : 20-45 days
Brand Name : SBS
Steel repository
Agricultural steel construction made by Shengbang Steel Structure Co., Ltd.
It is flexible, economical, durable, affordable, and environmentally friendly.
1.Steel Sructure Meterial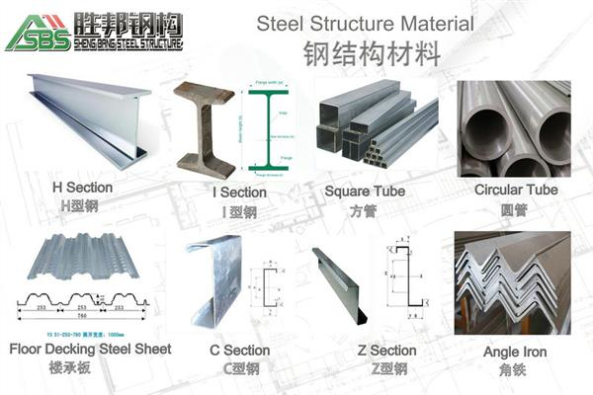 The reinforcing bars within the composite slab were kept the same for all series of tests. The composite concrete-steel slabs were formed by bonding steel plates to the soffits of reinforced concrete slabs by means of epoxy glue. In order to obtain full composite action the epoxy glue between the concrete slab and steel plate must be able to transfer the generated shear forces. To achieve the bond between the concrete and steel plate surfaces, the bonded surfaces had to be roughened. The concrete surfaces were roughened by either exposing the main concrete aggregate using brushes, chiselling the concrete paste layer to expose the main aggregate or by scabbeling the cement laitance to expose the main aggregate as per the epoxy supplier's specifications. The mild steel plates were sand blasted with a dry grid to a white metal finish in order to obtain a 100-140 micron blast profile as per the epoxy supplier's specification.
2.Product detials
1. Opinions

1)We can supply all kinds of steel structures, steel building, metal building, modular house, steel frame for warehouse, workshop, garage etc, steel beams, other riveting and welding parts.

2)We can also make and develop new parts according to customers' drawings and detailed dimensions.

2. Specifications

1) Size: MOQ is 200m2, width X length X eave height, roof slope

2) Type: Single slope, double slope, muti slope; Single span, double-span, Multi-span, single floor, double floors

3) Base: Cement and steel foundation bolts

4) Column and beam: Material Q345(S355JR)or Q235(S235JR) steel, all bolts connection! Straight cross-section or Variable cross-section

5) Bracing: X-type or V-type or other type bracing made from angle, round pipe, etc

6) C or z purlin: Size from C120~C320, Z100~Z200

7) Roof and wall panel: Single colorful corrugated steel sheet 0.326~0.8 mm thick, (1150 mm wide), or sandwich panel with EPS, ROCK WOOL, PU etc insulation thickness around 50 mm ~ 100 mm.

8) Accessories: Semi-transparent skylight belts, Ventilators, down pipe, Galvanized gutter, etc

9) Surface: Two lays of Anti-rust Painting

10) Packing: Main steel frame without packing load in 40'OT, roof and wall panel load in 40'HQ

3. Design Parameters

If you need we design for you, pls supply us the following parameter together with detail size

1) Live load on roof (KN/M2)

2) Wind speed(KM/H)

3) Snow load (KG/M2)

4) Earthquake load if have

5) Demands for doors and windows

6) Crane (if have) , Crane span, crane lift height, max lift capacity, max wheel pressure and min wheel pressure!
3.commonly used in steel and steel properties:
1) carbon structural steel: Q235B, Q345B, etc.
2) high strength low alloy structural steel;
3) high quality carbon structural steel;
Special steel of alloy structural steel 4;
5) special purpose just;
6) walls and roofing materials are optional: corrugated steel plate, EPS sandwich plate, rockwool sandwich plate and polyurethane sandwich plate.

Both the city and county health departments reported no cases of lead poisoning in the area surrounding Republic Steel. Stark County Health Commissioner Kirkland Norris said that's been the case in Canton Township for at least two decades.
We provide steel structures for any kind of use: pole shed, temporary warehouse, construction hangar, sheep housing, storage hangar, etc.Do you already have a precise idea of the pole barn kit you need? Do not hesitate to contact us and we will design for you a special steel structure plan according to your needs and your requirements.The materials in this collection are made available for use in research, teaching and private study. Texts and images from this collection may not be used for any commercial purpose without prior permission from Duke University
Company Profile:

Foshan Shengbang Steel Structure Co., Ltd.Possesses professional large-scale steel structure production equipments and the automatic spraying production
line, so we can satisfy the different customers demand.We takes "build your future" as mission and takes company growth as premise.The company has trained many
high quality marketing personnel, professional technician and construction workers.We take the customers' demand as the guidances, then provide reasonable,
scientific and effective solution for customers.We regard practical growth, innovationand group solidarity as our company spirit, so that we can offer all round service to customers.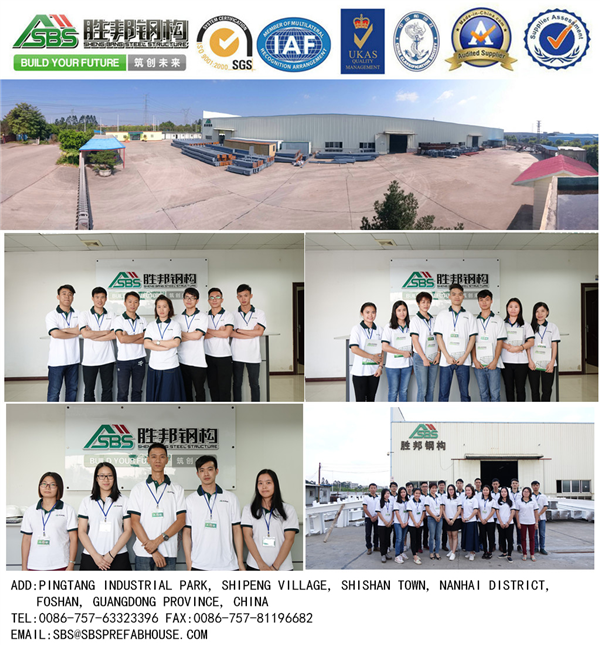 .