Steel Structure Workshop in Indonesia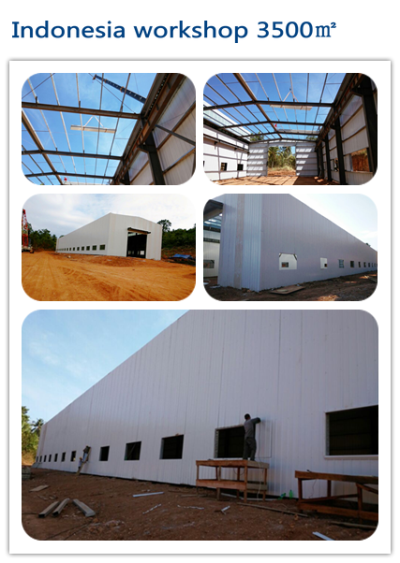 Available Strength
The steel core shall be designed to resist the entire axial force in the brace. The brace design axial strength, φPysc (LRFD), and the brace allowable axial strength, Pysc /Ω (ASD), in tension and compression, in accordance with the limit
state of yielding, shall be determined as follows:
Pysc = FyscAsc (F4-1)
φ = 0.90 (LRFD) Ω = 1.67 (ASD)
where
Asc = cross-sectional area of the yielding segment of the steel core, in.2 (mm2)
Fysc = specified minimum yield stress of the steel core, or actual yie
1.STEEL STRUCTURE WORKSHOP
Steel structure workshop main bearing component is composed of steel. The steel structure Workshop has the advantages of wide span, high strength, light weight, low cost, temperature protection, save energy,beautiful appearance, short construction time, good effect of insulation, long using life, space-efficient, good seismic performance, flexible layout,etc.
2.Material of steel structure
Steel Structure Workshop is formed by the main framework through linking up the H beam,C purline,Z purline,U purline steel components. Roof and wall using a variety of panels together with other components such as windows and doors.
All facilities are supported by a solid human resources base, with extensive qualifications and experience in engineering, procurement, on-site management and quality control.
3.Product Details
| | |
| --- | --- |
| Usage | Steel Structure workshop,warehouse,office or so on. |
| Size | length*width*high, and the ridge height, slope |
| Standard | China Standard,England Standard,America Standard or Australia Standard(please supply the detail date) |
| Crane | Do you need the crane?If you need please tell me the loding. |
| Country | Which country that the building will be? |
| Design load | Wind speed, Snow load, Earthquake |
| Wall and Roof | Steel sheet or sandwich panel |
| Insulation | Fiber glass, EPS,Rock wool,PU,please tell me the thickness |
| Surface | Painted (alkyd paint or Epoxy paint) ,Hot dip galvanize |
| Window | Quantity, material, dimension (W*H) and position |
| Door | Quantity, material, dimension (W*H) and position |
| Accessories | Down pipe, Out gutter, Ventilator, skylight etc. |
4、Design capacit
Prefabricated Steel Structure Workshop are very durable. They are strong enough to withstand heavy snowfall, high winds, and strong earthquakes. The steel paneling can also be coated with aluminum compounds to prevent rusting and increase the life of the panels. Prefabricated Steel Structure Workshop are also non-combustible so it's unlikely they will be destroyed by fire. This makes them perfect for storing hazardous chemicals. In addition to the durability, another benefit is the speed of construction.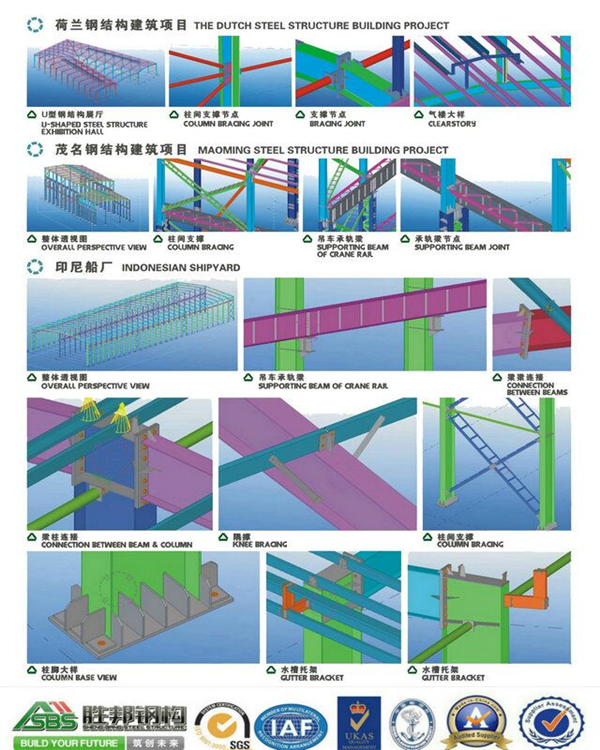 5、Service flow path:
Discussing Project——Design Plan Drawing——Budget & Quote——Confirm Drawing&Quotation——Sign the Contract——Make the shop Drawing——Manufacturing——Transportation——Shipping——Foundation Ready——Guidance Installation——Finshed Installation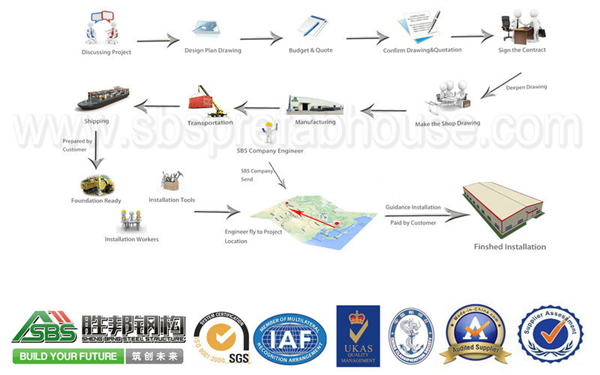 6.Company Profile:

Foshan Shengbang Steel Structure Co., Ltd.Possesses professional large-scale steel structure production equipments and the automatic spraying production
line, so we can satisfy the different customers demand.We takes "build your future" as mission and takes company growth as premise.The company has trained many
high quality marketing personnel, professional technician and construction workers.We take the customers' demand as the guidances, then provide reasonable,
scientific and effective solution for customers.We regard practical growth, innovationand group solidarity as our company spirit, so that we can offer all round service to customers.