Yinghong Garden Platform
SBS is the leader in the design of engineered steel structures for mezzanines, platforms, equipment support structures, catwalks, crossovers and steel towers used in a wide variety of applications.Our steel structures are designed for all seismic areas — including California, and exceed regulatory design requirements.When you need complete confidence in a steel structure's design, SBS is the safe decision.
The design connection is made at the top of the supporting column, rather than the base of the column. Our design and calculations account for the moment, leaving the customer only to validate the vertical column loads and base shear values.Structural requirements: The static load requirements of the steel platforms meet the guidelines of the national building regulations.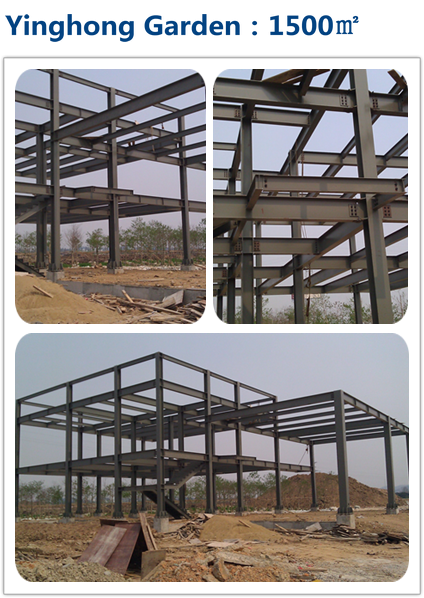 1.H section steel
H type steel is an economic efficient section material with optimized cross section area allocation and more reasonable ratio of strength to weight. It is named because of its letter "H" cross section. Since its different parts are of orthogonal configuration, h-beam has advantage of good bending capacity, simple construction, cost saving and structure light weight etc., has been widely used.
H-beam is divided into:H-Beam steel can be divided into hot rolled H-Beam steel and welded H-Beam steel by different producing methods.
H-type steel, optimized from I-shaped steel, is economic cross section steel with better cross-section mechanical performance. Especially, it is named because of its letter "H" shape section.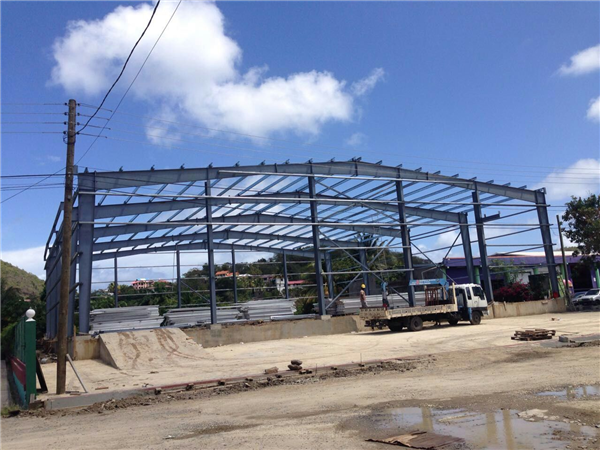 Its characteristics are as follows:
1. Wide flange, large lateral stiffness and strong anti-bending ability.
2. Two parallel flange surfaces enable easy and simple connection, processing and installation.
3. Compared with welding joist steel, H-type has lower cost, high precision, small residual stress. There is no need for expensive welding material and welding seam detection, so the steel structure production is cost saving.
4. Under the same cross section load, reduction weight of hot rolled H-type steel structure can be lighter 15-20% more than the traditional steel structure.
5. Compared with concrete structure, hot rolled H steel structure can increase 6% using area. Meanwhile, its self-reduce weight also reduces the internal structure design force.
6. H section steel can be processed into T steel. Honeycomb beam can be formed into various sorts of cross section by combination, which greatly meets the demand of engineering design and production.
After the produce with the H section steel and others,we need to transport.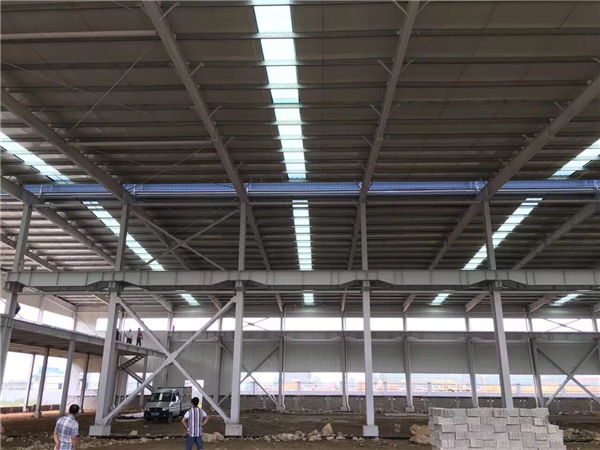 Steel structure is mainly composed of steel column, steel beam, steel frame and the rigid support and so on, so steel structure component volume is larger, The mainly transportation for export is as follow:
1. 40'HQ and 40'open top container
In general, after customer order, our engineering technology department design the steel structures will be according to the 40 'HQ and 40' open top container inside size to design the shipment, in most cases, we use 40 'HQ and 40' open top shipping container shipment to pack steel structures.
2.Break bulk
At special circumstances, some large construction size will be more than 40 'HQ and 40' open top containers internal dimensions, we suggest customer use trucks, flatbed trailer etc to transport the large construction component to the pier from the factory, then ship by port lifting, so while booking space,customers should book the break bulk. We will cooperate with the customer to provide them the size and weight of the goods, in order to book a reasonable space.
Remark:
When components are shipped to the site, due to various reasons of transport may cause component deformation (generally for bending, damage to the paint film, etc.), can be in the scene to correct, at present the correction method is generally divided into cold straightening and hot straightening.
For bending component, do the mechanical gagging with oil pump, also can use flame (C2H2 and pure oxygen mixed) to the hot straightening, after correction, the paint film that damaged must be repaired.
Protected Zones
The region at each end of the beam subject to inelastic straining shall be designated as a protected zone, and shall satisfy the requirements of Section D1.3. The extent of the protected zone shall be as designated in ANSI/AISC 358, or as otherwise determined in a connection prequalification in accordance with Section K1, or as determined in a program of qualification testing in accordance with Section K2.
Company Profile:

Foshan Shengbang Steel Structure Co., Ltd.Possesses professional large-scale steel structure production equipments and the automatic spraying production
line, so we can satisfy the different customers demand.We takes "build your future" as mission and takes company growth as premise.The company has trained many
high quality marketing personnel, professional technician and construction workers.We take the customers' demand as the guidances, then provide reasonable,
scientific and effective solution for customers.We regard practical growth, innovationand group solidarity as our company spirit, so that we can offer all round service to customers.