Steel Structure Platform
SBS is the leader in the design of engineered steel structures for mezzanines, platforms, equipment support structures, catwalks, crossovers and steel towers used in a wide variety of applications.Our steel structures are designed for all seismic areas — including California, and exceed regulatory design requirements.When you need complete confidence in a steel structure's design, SBS is the safe decision.
The design connection is made at the top of the supporting column, rather than the base of the column. Our design and calculations account for the moment, leaving the customer only to validate the vertical column loads and base shear values.Structural requirements: The static load requirements of the steel platforms meet the guidelines of the national building regulations.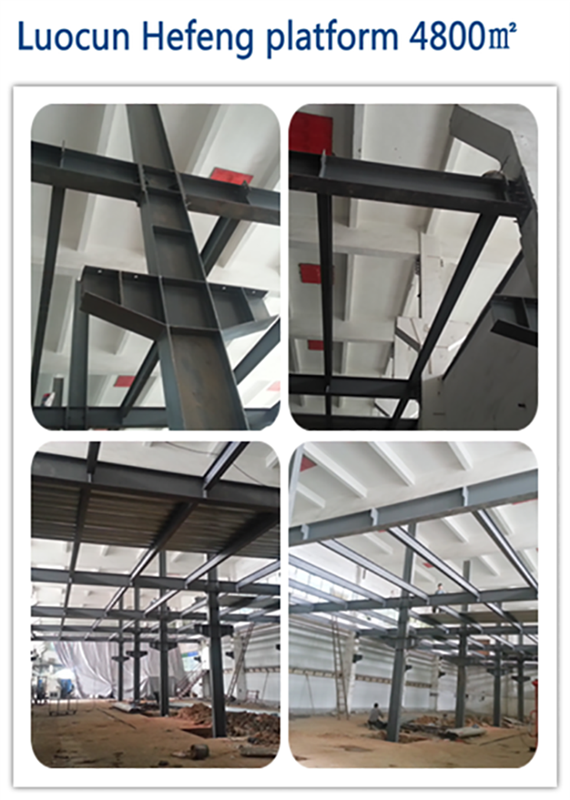 steel manufacturer, more than 2000 employees 2 near the seaport, low logistic cost. 3 good reputation & service. Hot rolled h beam. Specification: jis h beam. Specification: welded light gauge h steel. Steel grade. Chemical composition:. Mechanical capability:. Maximum acutal weight shortage than theoretical weight:. Jis g 3192-2000 size , weight and permissible variations of hot rolled steel sections , tolerances on shape and size . Jis g3353-1978 welded light gauge h steels for general structures tolerance on shape and size.
1. Product Detail information
1) Steel Structure Platform
The structural steel platforms are modular structures that enable maximum exploitation of the useful height of the premises, by doubling and even tripling the functional surfaces without the need to carry out building works.
The structural steel platforms can be adapted to suit the most varied work and production areas therefore making additional space available.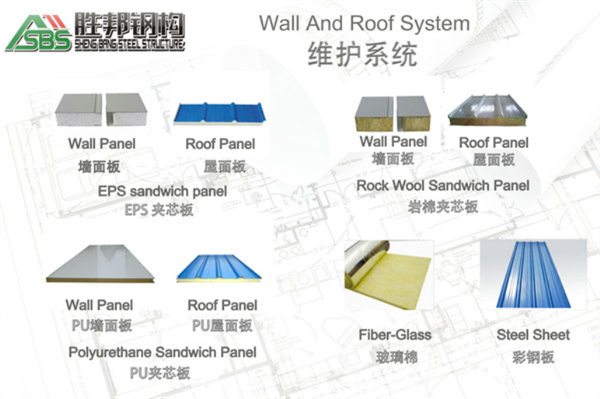 The lengths of beams are 4200 mm and 3600 mm. The temperature field and deflection of beams in fire are measured. The effect of connection, boundary condition and axial restraint on the behaviors of steel beams is also studied. When the beams undergo a large deflection, compression force then quickly changes into tension force, which supports the beam and reduces further deflection, and the catenary action takes place. The test results in this paper may be used to guide the design of this type of steel beams in fire. Figures 4 and 5 show the locations of some basic instruments on the test beam. The loading was applied manually at room temperature. It was then maintained at the same level during the fire test.
3. Product details
| | |
| --- | --- |
| Main structure | Steel Welded H Section |
| Purlin | C Section Channel or Z Section Channel |
| Roof Cladding | Sandwich Panel or Corrugated Steel Sheet with Fiber Glass Wool Coil |
| Wall Cladding | Sandwich Panel or Corrugated Steel Sheet |
| Tie Rod | Circular Steel Tube |
| Brace | Round Bar |
| Column & Transverse Brace | Angle Steel or H Section Steel or Steel Pipe |
| Knee Brace | Angle Steel |
| Roof Gutter | Color Steel Sheet |
| Rainspout | PVC Pipe |
| Door | Sliding Sandwich Panel Door or Metal Door |
| Windows | PVC/Plastic Steel/Aluminum Alloy Window |
| Connecting | High Strength Bolts |
| Packing | Can be loaded into 40ft'GP/HQ/OT, or 20 ft'container. |
| Drawing | We can make the design and quotation according to your requirement or your drawing |
4. Platform structure composition and classification:
(1) Composition: steel platform usually supported by the Inter-plated, primary and secondary beams, columns, columns, and ladders, railings and other components.
(2) Category:
According to the requirements can be divided into indoor and outdoor platforms to withstand static load and dynamic load platform, production support platform, as well as medium and heavy operating platforms.
According to different treatment of carriage, the platform structure can be divided into:
1) directly rests on a tripod or bracket plant the platform column, function generally safe passage to a simple medium or platform.
2) supported on the plant side columns or walls of buildings, on the other side with separate columns internet.
3) supported on large equipment on the platform.
4) all independent platform.
5. Guidance installation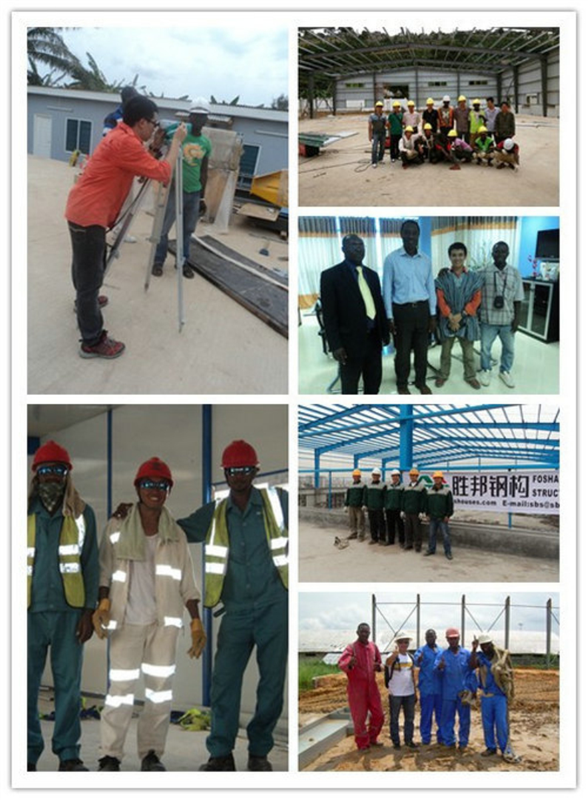 Shengbang Steel Structure Company can supply the guidance installation service.Usually steel structure building is a large installation engineering. If customers may need the professional technical engineer to supervise the installation on site overseas, the customer must to inform before 1 months from leave the China . But customer should coordinate with us for following aspects:
Customer should provide:
1) Translator or assistant on site.
2) All costs raised including:
A. visa fee
B. Round trip flight ticket
C. Accident insurance for the supervisor during the period
D. Accommodation
E. Daily meals
F. Internet
G. Local traffic fee (if any)
3) The customer should pay the engineer with supervision fee, which can be negotiated and decided by both.
4) Customer has the responsibility to provide necessary security system to protect the supervisor, especially in some unrest countries.
Company Profile:

Foshan Shengbang Steel Structure Co., Ltd.Possesses professional large-scale steel structure production equipments and the automatic spraying production
line, so we can satisfy the different customers demand.We takes "build your future" as mission and takes company growth as premise.The company has trained many
high quality marketing personnel, professional technician and construction workers.We take the customers' demand as the guidances, then provide reasonable,
scientific and effective solution for customers.We regard practical growth, innovationand group solidarity as our company spirit, so that we can offer all round service to customers.