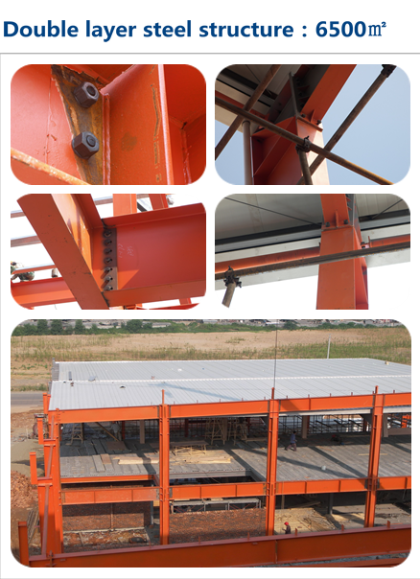 Acceptable reliability under earthquake action
Building risk categories I and II

All or part of the structural collapse

Failure may result in life hazard

The probability of occurrence of the largest earthquake 10%

The probability of occurrence of maximum seismic effects is 25%

Building risk category

All or part of the structural collapse

Failure may result in life hazard

The probability of occurrence of the largest earthquake is 6%

The probability of occurrence of the largest earthquake is 15%

Building Risk Category IV

All or part of the structural collapse

Failure may result in life hazard

The probability of occurrence of the largest earthquake is 3%

The probability of occurrence of the largest earthquake is 10%
1.The detail material for the steel structure
The steel structure material is included the H section,I section,Square tube,Circular Tube,Floor decking steel sheet,C section,Z section,Angle iron , Steelbar ,Steel plate .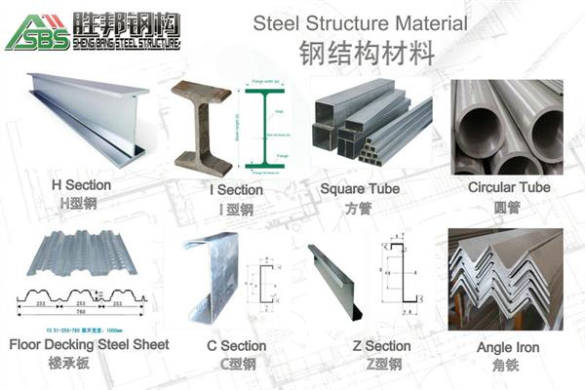 1)Z-Section Sheet
Z steel is common cold bending thin-wall steel, whose thickness is commonly between 1.6-3.0mm, section heights between 120-350mm. Processing materials is hot rolled (paint), galvanized. It is processed according to perform standards. Z steel is usually applied in large steel structure factory building.
2)Hot rolled I-shape beams can be divided into common i-steel and light beams.
Common i-steel
Main purpose: Ordinary beams are widely used in various building structures, Bridges, vehicles, support and machinery, etc.
Light beams
Flange of common i-steel and light beams are gradually becoming thinner from root to the edge with certain angle. Compared with ordinary beams, hot rolling light beams has wider leg and thinner waist in same wait height conditions. Guaranteed the bearing capacity, the light beams have better stability, metal saving and better economic effect than ordinary beams.
Main use: The same with ordinary beams, it is mainly used in factories, Bridges and other large structures and vehicle manufacturing, etc.
2.Product details
Product Name

Prefabricated Steel Structure Warehouse

Specification

Foundation

Concrete and Steel

Support

X or V types, angle steel or round tube

Surface

Two layers and anti-rust paint

Color

White, Grey, Blue, Green, etc

size

Designed by your requirement

Advantages

1. Stable Construction
2. Anti-seismic performance
3. Aesthetic appearance
4. Short construction period
5. High-speed installation
6. Life span durability
7. Environmental-Friendly product
8. Energy saving

Main component

Base materials

Cement and steel foundation bolts

Main frame

H beam (welded or hot rolled)

Material

Q35B,Q345B

Purlin

C purlin (C120-320) or Z Purlin (Z100-200)

Bracing

Tie bar, lateral bracing, column bracing, knee bracing, etc

Bolt

Normal bolt, high strength bolts, Galvanized bolt

Roof & wall

Sandwich panel, steel corrugated sheet

Door

Sliding door , rolling shutter

Window

PVC window, aluminum-alloy Window

Accessories

Skylight, ventilation, downpipe and galvanized gutter etc .
3.Wind load design terms
Basic wind speed V: 10 m from the ground height, exposure category C, time interval of 3s, according to 26.5.1
Section to determine the wind speed value.
A building that does not meet open or partially enclosed requirements.
Construction and other structures, flexibility: slender buildings and other structures with basic natural frequencies less than 1 Hz.
Low-rise buildings: Closed, partially enclosed buildings that meet the following conditions:
1. The average roof height h is less than 18 meters.
2. The average roof height h does not exceed the minimum size of the building.
Roof height, h: from the surface to the building cornice, along the wall high distance. If the cornice height is high along the wall
Is changed, h is taken as the average height.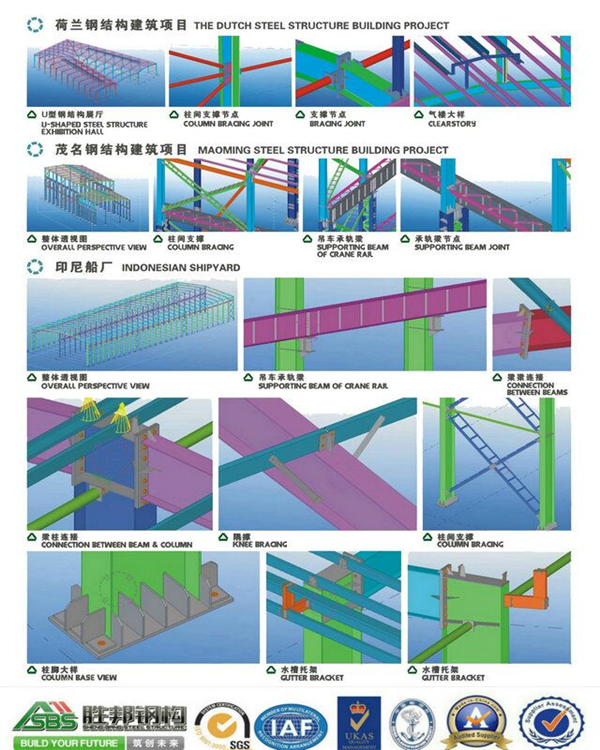 4.Transportation
Steel structure is mainly composed of steel column, steel beam, steel frame and the rigid support and so on, so steel structure component volume is larger, The mainly transportation for export is as follow:
1). Seaworthy
In general, after customer order, our engineering technology department design the steel structures will be according to the 40 'HQ and 40' open top container inside size to design the shipment, in most cases, we use 40 'HQ and 40' open top shipping container shipment to pack steel structures.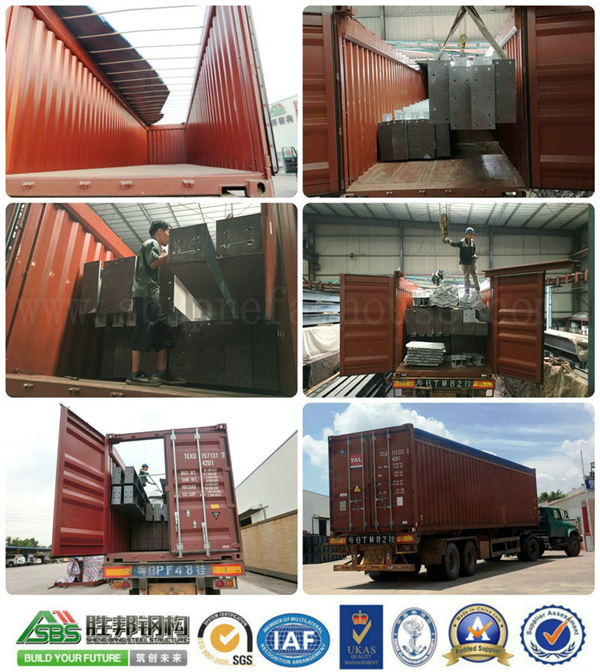 2).Package for the steel frame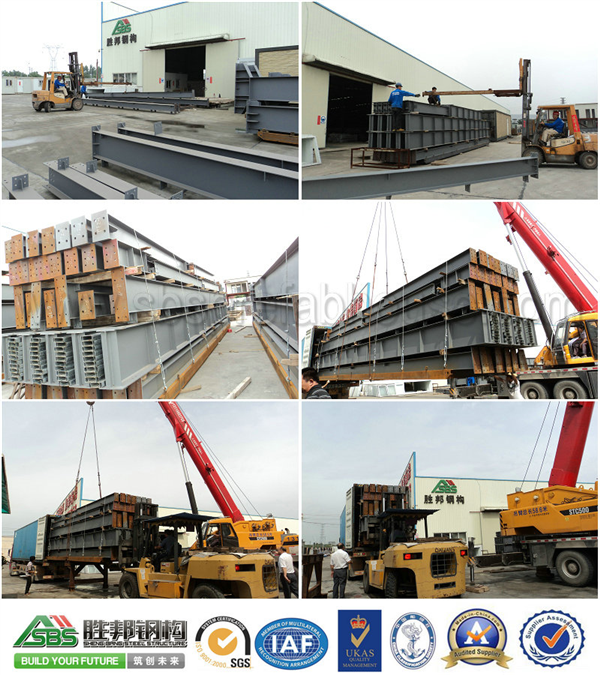 If you want to use the 40 HQ container to transportation the whole steel structure product. You can do the steel frame to package ,use the cable wire to fix. But you must paid for the steel frame and baling charges.
5.Company Profile:

Foshan Shengbang Steel Structure Co., Ltd.Possesses professional large-scale steel structure production equipments and the automatic spraying production
line, so we can satisfy the different customers demand.We takes "build your future" as mission and takes company growth as premise.The company has trained many
high quality marketing personnel, professional technician and construction workers.We take the customers' demand as the guidances, then provide reasonable,
scientific and effective solution for customers.We regard practical growth, innovationand group solidarity as our company spirit, so that we can offer all round service to customers.