Prefabricated steel structure stadium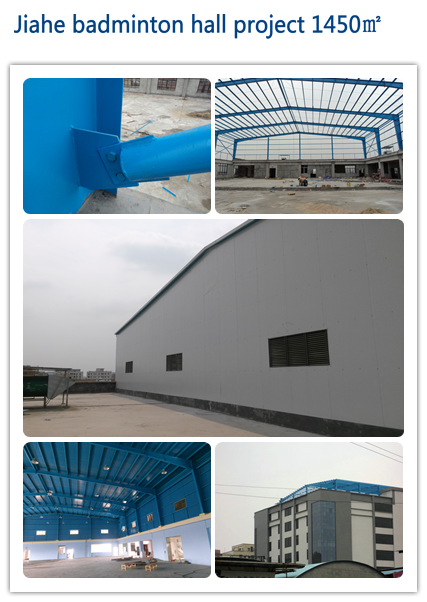 Gymnasiums and arenas are buildings that bring communities together. That is why choosing the right material for these buildings is important.you can erect the perfect gymnasium building for your needs. Pre-engineered gymnasiums don't have to be boring. In fact, you can also choose to add canopies and other elements to your steel gymnasium to enhance the outer appearance.Our expertise in combining pre-engineered metal buildings and structural steel provides a single source manufacturer for your school. The gymnasium, classrooms and administrative offices benefit from Rigid's low cost steel structure and fast construction time. The exterior may be finished in masonry, stucco and other wall treatments to provide a durable, beautiful appearance. The low lifetime maintenance costs of a Rigid standing seam metal roof enables the school to reduce it's ongoing expense.
1. Steel structure stadium Product Detail information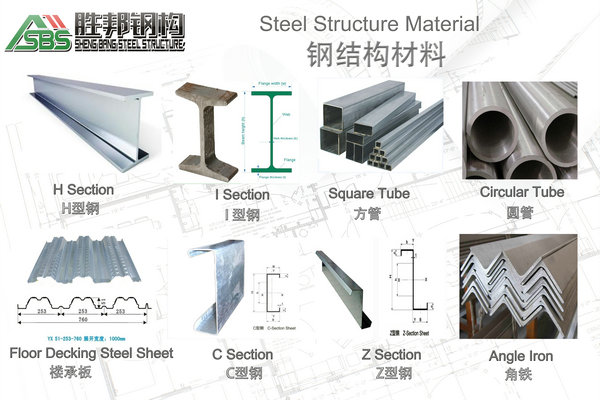 2.Design strength:
Shengbang Steel Structure Co., Ltd. has all kinds of full-time designers and can independently carry out R&D and design of various products. Most of them have more than three years of working experience in the steel structure design industry. The company uses a variety of advanced design software at home and abroad to design blueprints, perspectives, construction drawings, detail drawings, etc. to meet the needs of different customers. At present, the company designs and manufactures various types of foreign steel structures and is well received by overseas customers.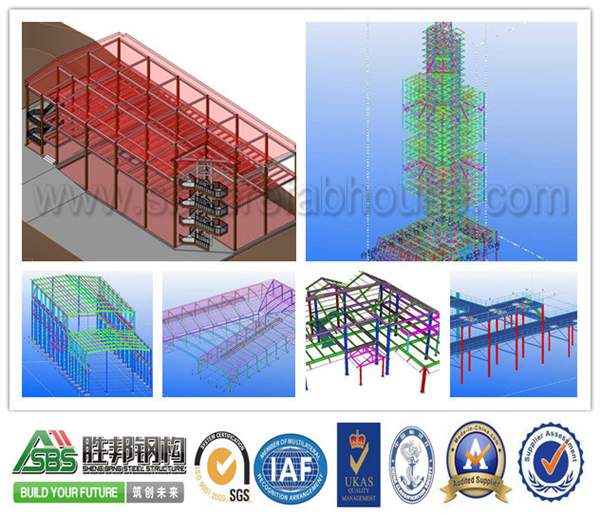 3.Guidance installation
Shengbang Steel Structure Company can supply the guidance installation service.Usually steel structure building is a large installation engineering. If customers may need the professional technical engineer to supervise the installation on site overseas, the customer must to inform before 1 months from leave the China . But customer should coordinate with us for following aspects:
Customer should provide:
1) Translator or assistant on site.
2) All costs raised including:
A. visa fee
B. Round trip flight ticket
C. Accident insurance for the supervisor during the period
D. Accommodation
E. Daily meals
F. Internet
G. Local traffic fee (if any)
3) The customer should pay the engineer with supervision fee, which can be negotiated and decided by both
4) Customer has the responsibility to provide necessary security system to protect the supervisor, especially in some unrest countries.
There have some guidance installation picture: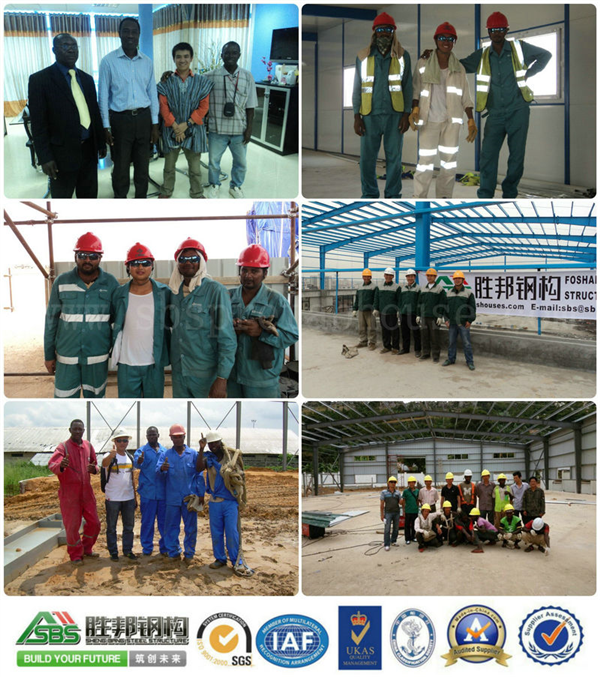 Company Profile:

Foshan Shengbang Steel Structure Co., Ltd.Possesses professional large-scale steel structure production equipments and the automatic spraying production
line, so we can satisfy the different customers demand.We takes "build your future" as mission and takes company growth as premise.The company has trained many
high quality marketing personnel, professional technician and construction workers.We take the customers' demand as the guidances, then provide reasonable,
scientific and effective solution for customers.We regard practical growth, innovationand group solidarity as our company spirit, so that we can offer all round service to customers.