Prefabricated steel horse shed
Steel structure building made by Shengbang Steel Structure Co., Ltd.
It is flexible, economical, durable, affordable, and environmentally friendly.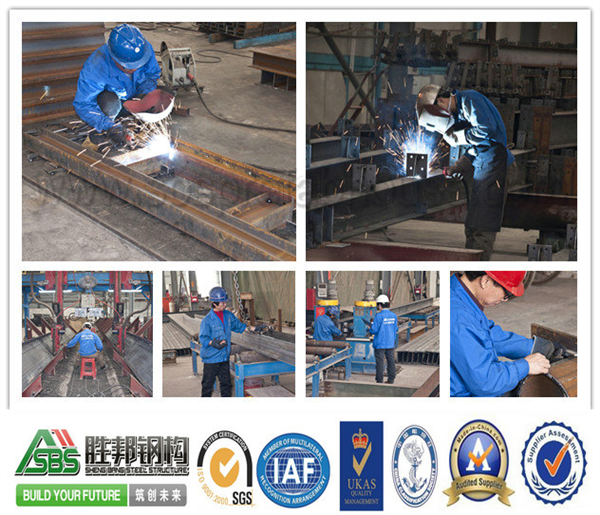 1. Product Detail information
1) Steel Structure Panel material
The steel structure panel material included EPS sandwich panel,Rock wool sandwich panel,PU sandwich panel,fiber-glass ,steel sheet.
Steel structure panel material: including wall panel and roof panel
Sandwich core materials: EPS, PU, rock wool, glass wool
Thickness of sandwich panels: 50mm, 75mm, 100mm, 150mm
Single color plate material thickness: 0.376mm, 0.426mm, 0.476mm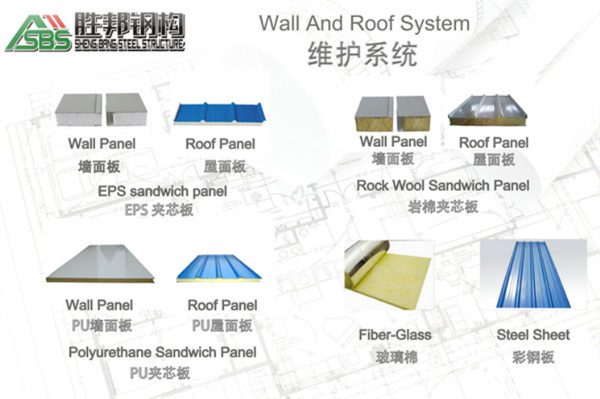 Z-Section Sheet
Z steel is common cold bending thin-wall steel, whose thickness is commonly between 1.6-3.0mm, section heights between 120-350mm. Processing materials is hot rolled (paint), galvanized. It is processed according to perform standards. Z steel is usually applied in large steel structure factory building.
2) Hot rolled I-shape beams can be divided into common i-steel and light beams.
Common i-steel
Main purpose: Ordinary beams are widely used in various building structures, Bridges, vehicles, support and machinery, etc.
Light beams
Flange of common i-steel and light beams are gradually becoming thinner from root to the edge with certain angle. Compared with ordinary beams, hot rolling light beams has wider leg and thinner waist in same wait height conditions. Guaranteed the bearing capacity, the light beams have better stability, metal saving and better economic effect than ordinary beams.
Main use: The same with ordinary beams, it is mainly used in factories, Bridges and other large structures and vehicle manufacturing, etc.
2. Provide data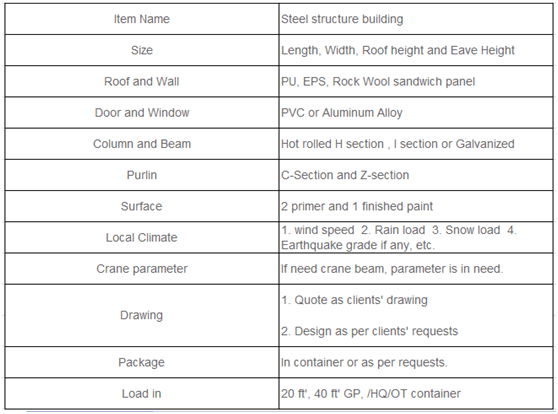 Our steel horse barns and stables come in a variety of shapes and sizes. Each with their own unique features and benefits. Our steel horse barns can be manufactured in clearspan designs up to 120' wide and heights up to 30' at the sidewall. With such wide open areas, you can ride comfortably inside the barn and use the entire interior space unobstructed.Always allow for wide aisles in between the horse stalls to move equipment and horses through. The best option is asphalt or concrete isles. Horse stalls in the barn should have a gravel base topped with a half foot of clay and rubber pavers for easy cleaning. You can design your building up to 100 feet wide to accommodate large horse stalls and wide aisles.
3. Service flow path:
Discussing Project——Design Plan Drawing——Budget & Quote——Confirm Drawing&Quotation——Sign the Contract——Make the shop Drawing——Manufacturing——Transportation——Shipping——Foundation Ready——Guidance Installation——Finshed Installation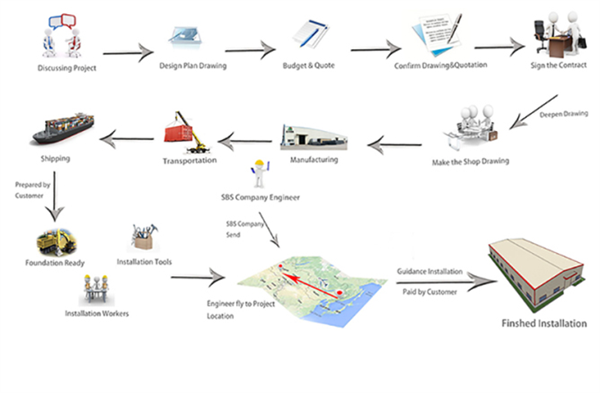 Horse owners know that kicks can result in animal injury. When a horse kicks through wood, there is the potential for serious splinters. When animals kick a wall of brick or masonry they can break a leg. Steel panels, however, are strong enough not to break.Because the modules come in standard sizes, others can be added later if additional features, such as more stalls, a washroom, or an office, are wanted. Ease of expansion is another major sell point for pre-engineered barns, as one saves the expenses of having to move their horses out during renovations.
Stables and barns are designed with Green Terra Homes pre-engineered wall and roof panel systems and fabricated with the steel frame and steel truss systems, which cuts the fabrication process down to one fully integrated step. Ball park pricing of your custom project can be calculated by using per square costs of our existing standard homes and structures.
Company Profile:
Foshan Shengbang Steel Structure Co., Ltd.Possesses professional large-scale steel structure production equipments and the automatic spraying production
line, so we can satisfy the different customers demand.We takes "build your future" as mission and takes company growth as premise.The company has trained many
high quality marketing personnel, professional technician and construction workers.We take the customers' demand as the guidances, then provide reasonable,
scientific and effective solution for customers.We regard practical growth, innovationand group solidarity as our company spirit, so that we can offer all round service to customers.