Metal frame assembled container house
container house is a construction products which is mobile,prefabricated and reusable.The house adopts standardized design,factoryproduction,and takes cabinet as the elemental unit.Container house is not only fit for individual usage,but also for spacious room application formed by various horizontal and vertical direction combination.Container house structure uses standardized structural elements that are welded by profile steel or cold-formed thin-wall steel.Combined container house is connected and fastened by high strength screw,so that house structure is simple,easy to install.Container house is widely used for real estate development company exhibition hall,product showroom,temporary reception center,commercial temporary office,store and so on.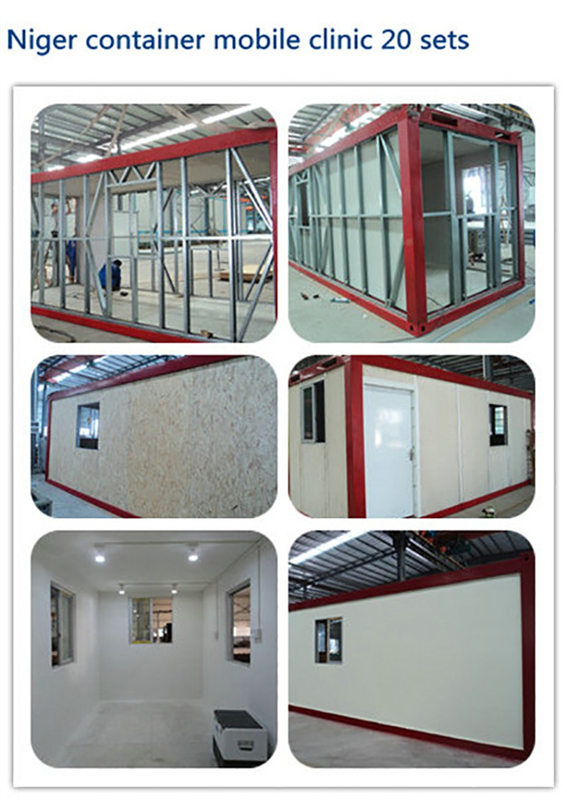 1. CONTAINERS Product Detail information
1) Steel Structure Panel material
The steel structure panel material included EPS sandwich panel,Rock wool sandwich panel,PU sandwich panel,fiber-glass ,steel sheet.
Steel structure panel material: including wall panel and roof panel
Sandwich core materials: EPS, PU, rock wool, glass wool
Thickness of sandwich panels: 50mm, 75mm, 100mm, 150mm
Single color plate material thickness: 0.376mm, 0.426mm, 0.476mm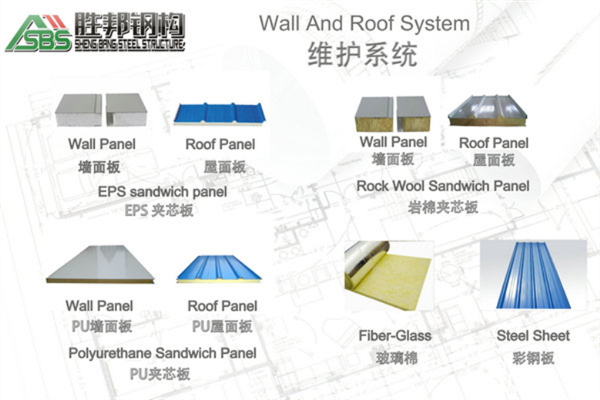 SBS container house adopts international shipping container standard corner fittings ISO 1161:1984. Design structure and materials of corner fitting satisfy the requirements of GB/T5338,GB/T7392 and GB/T16563 operation and test regulations.The minimum loaded area is between twist lock and interface of corner fittings should be 800㎡(1.24in2),when the lifting device lift the container house at four top corner fitting holes.
other steel components:bottom steel frame, top steel frame, column steel sheet, galvnized cover sheet
FIBER GLASS
Glass wool adopts the most advanced centrifugation technique to fiber glass fibrosis, Such products has large amount and very thin glass fiber inside. Its total surface area is very large also, so as to strengthen the resistance of the air, making the air unable to flow and eliminating the air convection heat transfer; Similarly, huge friction decays vibration of the sound propagation carriers - air quickly, which ensures glass wool's good thermal insulation and sound absorption effect. It is also good material for sound absorption and noise reduction in steel structure building.
Rock Wool Sandwich Panel
Rock wool sandwich panel is not better than polystyrene and polyurethane sandwich panel with regard to sole weight, heat conduction, compressive strength, water absorption rate and other physical and mechanical properties. However, it can be used under the service temperature of 600℃. Besides, this type panel possesses the outstanding feature of being level A incombustibility, thus rock wool sandwich panel serviceable range is expanded to light weight construction materials for high requirement on fire-protection rating.
2. PRODUCT DETAILS
Product Name

Steel Structure Warehouse

Specification

Foundation

Concrete and Steel

Support

X or V types, angle steel or round tube

Surface

Two layers and anti-rust paint

Color

White, Grey, Blue, Green, etc

size

Designed by your requirement

Advantages

1. Stable Construction
2. Anti-seismic performance
3. Aesthetic appearance
4. Short construction period
5. High-speed installation
6. Life span durability
7. Environmental-Friendly product
8. Energy saving

Main component

Base materials

Cement and steel foundation bolts

Main frame

H beam (welded or hot rolled)

Material

Q35B,Q345B

Purlin

C purlin (C120-320) or Z Purlin (Z100-200)

Bracing

Tie bar, lateral bracing, column bracing, knee bracing, etc

Bolt

Normal bolt, high strength bolts, Galvanized bolt

Roof & wall

Sandwich panel, steel corrugated sheet

Door

Sliding door , rolling shutter

Window

PVC window, aluminum-alloy Window

Accessories

Skylight, ventilation, downpipe and galvanized gutter etc .
3. Transportation
Steel structure is mainly composed of steel column, steel beam, steel frame and the rigid support and so on, so steel structure component volume is larger, The mainly transportation for export is as follow:
1) Seaworthy
In general, after customer order, our engineering technology department design the steel structures will be according to the 40 'HQ and 40' open top container inside size to design the shipment, in most cases, we use 40 'HQ and 40' open top shipping container shipment to pack steel structures.
2) Package for the steel frame
If you want to use the 40 HQ container to transportation the whole steel structure product. You can do the steel frame to package ,use the cable wire to fix. But you must paid for the steel frame and baling charges.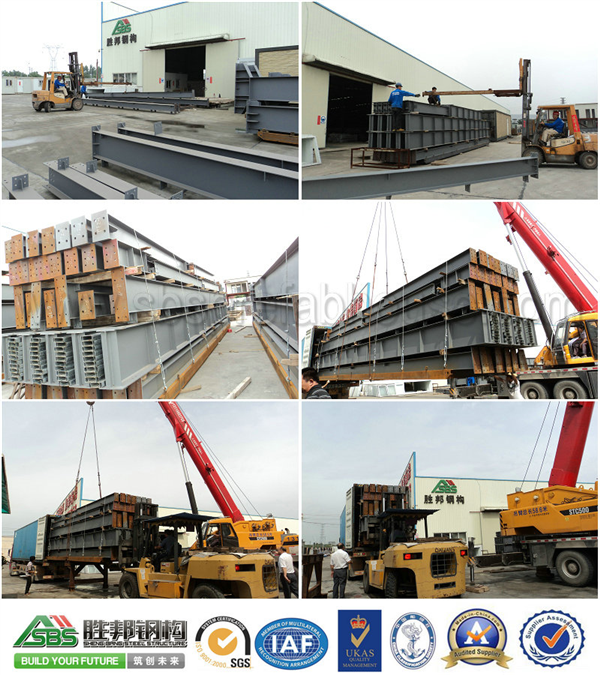 With 6 cm sandwich panel wall, 11 cm sandwich panel roof and electrostatic painted galvanized system that is assembled using bolts and nuts, SBS of containers technology has unique features in terms of insulation and quality. The sandwich panel used at container's wall panel and roof system provides high heat and sound insulation. Our containers are produced at 3x7 m dimensions with about 20 different ergonomically designed plans with possibility to join together and setup multi-storey buildings, and with easy transportation feature. containers are used by major construction and infrastructure projects as worksite buildings, executive offices, sales offices, dormitory, dining hall, WC and shower units and for many other different purposes.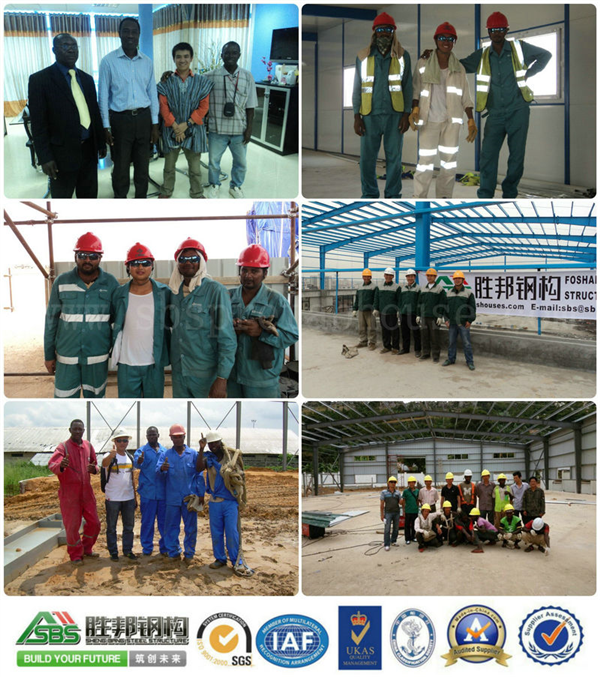 Company Profile:

Foshan Shengbang Steel Structure Co., Ltd.Possesses professional large-scale steel structure production equipments and the automatic spraying production
line, so we can satisfy the different customers demand.We takes "build your future" as mission and takes company growth as premise.The company has trained many
high quality marketing personnel, professional technician and construction workers.We take the customers' demand as the guidances, then provide reasonable,
scientific and effective solution for customers.We regard practical growth, innovationand group solidarity as our company spirit, so that we can offer all round service to customers.