New-Info
Architects believe that steel will bring a new round of opportunities
Nowadays, the main thinking is that Chinese steel structure experts are accompanying faster developing in steel structure industry. Then for China should promote steel structure house, even to the point that promote steel structure residence,they believe that steel structure will bring a new round of opportunities
The architects also said that because the steel structure houses with light weight, good weather performance, thermal insulation and other characteristics, is in line with the requirements of sustainable development of green buildings. Most of the components of the prefabricated building can be pre-completed at the factory, transported to the construction site for assembly, so that the construction period is significantly shorter. Assembly of steel structure will be the focus of future development, developed countries, the amount of steel accounted for about half of its steel production, while the current proportion of China is less than 5%.The steel construct has great potential, and the market prospects are very good.
The experts of steel structure combine domestic and foreign examples, continually study. So the experts think that it is developing faster. Nowadays, the development of steel structure house is greatly fast. But a survey report of domestic architectural study institution, that's steel structure are less using in other buildings except parts of workshops. So the experts of steel structure advise that domestic market should appropriately promote steel structure house and advocate steel structure residence.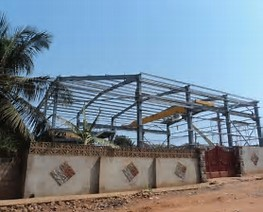 Compared with the traditional reinforced concrete construction, manufacturing cost difference is not too large, and can be used in steel factory assembled, using prefabricated housing, not only greatly reducing construction waste and dust pollution, but also shorten the construction period and improve project quality.
On the steel structure price impact, most of people misunderstand steel structure's price which is a little high. Otherwise, steel structure residence usually reduce foundation price. That's 30% cheaper than concrete buildings. Therefore, steel structure can reduce energy and resource wastage. That also will reduce environment pollution. Nowadays, steel structure house befittingly advocate steel structure building. Chinese steel structure experts get through steel structure studying, it indicates that continuously innovate steel structure design. Meantime, on the building environment protection impacts, that can be recoverable and recycling. So steel structure residence is not only effective energy , but also suitable price. That are existing certain advantages.
The advice of most counties are using energy effective building materials, and then will reduce wastage. Chinese steel structure experts believe that steel structure house will be new greatly developing.