Amazing Steel Structures From Sheng Bang, China
About the Company
If you are looking for a great steel structure manufacturer, you should look no further that the Foshan Shengbang Steel Structure Co., Ltd., China – or SBS for short. This company is in the business of molding the steel into various shapes. This steel goes through a lot of processes and methods before it arrives to it`s new owners.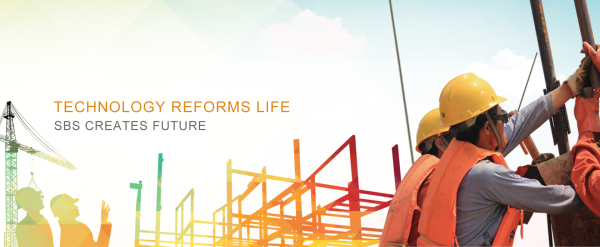 Sheng Bang Steel makes sure that all of the products that they create are of the maximum quality. SBS employs exceptionally skilled and trained people to work on cutting, molding, shaping, connecting, joining, chamfering, and welding of the steel into the necessary shape and size to suit the customers.

Why SBS Steel?
There are many reasons to choose the SBS steel. Here are some of them:
-It is extremely durable. The steel structure is light and made of super durable steel. Depending on what construction you need or you choose, you will be satisfied with its durability. The company promises a structural life of one hundred years – this is the evidence of its durability.

-It will protect you or your property from any seismic happenings. The steel is stable and well-connected and it provides you with great anti-seismic protection. You should not fear any earthquakes or anything similar because your construction will not collapse no matter what therefore keeping you and your possessions safe.

-It has a high aesthetic appeal. The steel looks amazing in every setting. It`s made so that it can look great in nature – it`s connecting with it, not disturbing it in any way and it can look enchanting in cities or suburbs. The quality and look of this steel will most definitely amaze you.

-It has a short construction period. Since it comes in parts made of steel, it will not take a lot of time for your construction to be done. So, no matter what you need – a house, warehouse, garage or hangar, or anything else – you`ll be able to quickly move in and go on with your life in your new building of high quality and durability.

-This is an environmentally friendly product. The steel is 100% recyclable and if you are a nature lover or if at least you care about your ability to reuse the steel, you`ll be happy to know that it will suit your needs. This steel is adaptable to any scenario and will blend in nicely.

-It will provide you with a lot of energy saving. If you care about saving money, this construction will work just fine for you as it will provide you with great energy saving.

Products
Foshan Shengbang Steel Structure Co., Ltd. will most definitely amaze you with their wide array of products – it`s one of the best steel structure fabricators and steel structure contractors.

What they offer are high quality construction of steel:
-Industrial products include Steel Structure Hangar, Steel Structure Warehouse, Steel Structure Platform, Steel Structure Garage and Steel Structure Workshop.

-Agricultural products include Agricultural Equipment Storage Warehouse , Animal Husbandry Shed, Barn

-Commercial Products include Gyms, Cinemas, Residences, Supermarkets and Offices.

-There are also Villas, Container Houses and a wide array of metal products and parts that you`ll find exceptional.