New-Info
Advantages of Having a Steel Structure Workshop
Steel structure workshop is not only for skyscrapers, garages and huge agricultural buildings. There are multiple reasons of using a steel structure factory building rather than relying on wood or concrete. Besides sustainability, durability and affordability, there are numerous advantages of using a steel frame workshop. Some of these advantages are listed below.
1. Steel is a lighter material
Steel framing is much lighter than a wood framing, which will help in reducing the required labor. In addition, it will also decrease the shipping expenditures and simplify the layout of a steel structure factory building's foundation, which will further decrease project budgets.
2. Construction will be faster
Steel parts come in pre-engineered form so that they can be erected instantly to speed up the construction time. In this way, a large-scale steel structure workshop can be completed in few weeks. Assembling of steel parts is quite easy as compared to other materials.
3. Save money
You can save a lot of money if you prefer to use a steel workshop building or steel structure factory building. It's because steel can be reused and construction companies can easily recycle it. Steel is also durable and needs little maintenance. The maintenance fees, replacements and repairs are also minimal.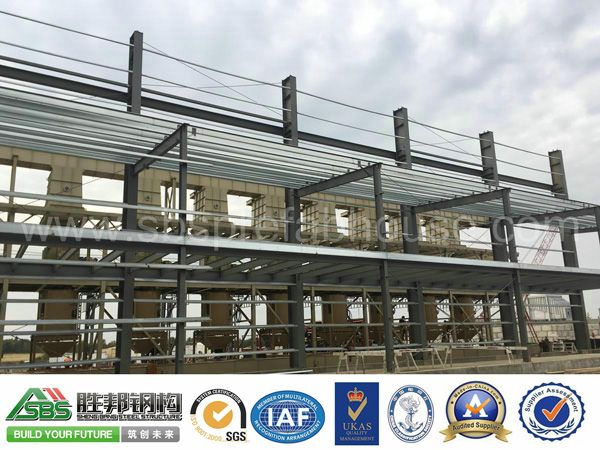 4. Durability
Steel structure can withstand heavy snowfalls, high winds and fire. It can also resist decay and pests that's why the insurance companies offer low premiums on the policies related with metal buildings.
5. Environmentally friendly
As already discussed, steel is a recyclable material. As per the statement of Steel Recycling Institute, 80M tons of steel is recycled every year that makes it the most recycled material of the world. Since 1990s, steel industry has decreased carbon dioxide emissions by 35%. Steel structure elevator shaft or building is very energy efficient. Connections between prefabricated, high-quality steel parts are so precise that they ensure a totally sealed envelope with adequate insulation. Cool steel roofing products effectively reduce solar heat gain, which further increases energy savings.
6. Good weight carrying capacity
Unlike concrete or wood, steel structure has a good weight carrying capacity. A steel structure elevator shaft can carry more load as compared to a concrete elevator shaft. Foshan Shengbang Steel Structure Co., Ltd offers reliable and long-lasting steel structure elevator shaft.
7. Highly versatile
Steel structure can be mass produced and fabricated easily. Because of its versatile nature, it can be assembled and disassembled without any difficulty. Steel structures are easy to modify as compared to concrete structures.
8. Off-site fabrication
Steel structures can be fabricated off-site by qualified steel fabrications. After that, they can be assembled on site.
9. Affordable
Steel structures are cost-effective building framing material. The project costs of a steel structure factory building will be much low due to reduced equipment and labor requirements.
10. Scrap value
Steel parts have a good scrap value that's why it is a better option. On the other hand, concrete has zero scrap value.
Final Verdict
Keeping in view all these benefits, it is recommended to use steel structure workshop and factory building.