Single storey buildings are the largest sector of the UK structural steelwork market, representing upwards of 60% of total activity. These buildings are typically used for workshops, factories, industrial and distribution warehouses and retail and leisure. Referred to colloquially as 'sheds', sizes vary from small workshops of just a few hundred square metres up to massive distribution warehouses covering over one hundred thousand square metres.
1.Product Detail information
1)Steel Structure Panel material
The steel structure panel material included EPS sandwich panel,Rock wool sandwich panel,PU sandwich panel,fiber-glass ,steel sheet.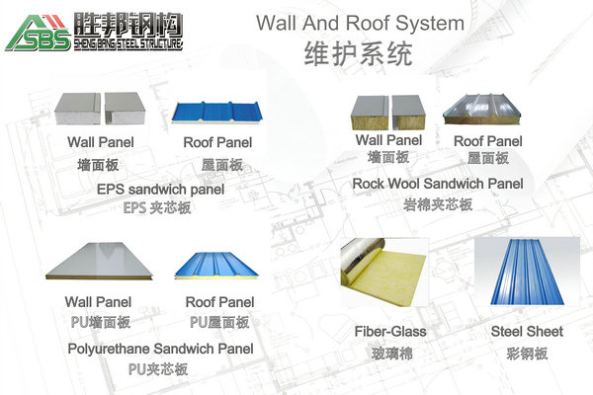 1)FIBER GLASS
Glass wool adopts the most advanced centrifugation technique to fiber glass fibrosis, Such products has large amount and very thin glass fiber inside. Its total surface area is very large also, so as to strengthen the resistance of the air, making the air unable to flow and eliminating the air convection heat transfer; Similarly, huge friction decays vibration of the sound propagation carriers - air quickly, which ensures glass wool's good thermal insulation and sound absorption effect. It is also good material for sound absorption and noise reduction in steel structure building.
2)Rock Wool Sandwich Panel
Rock wool sandwich panel is not better than polystyrene and polyurethane sandwich panel with regard to sole weight, heat conduction, compressive strength, water absorption rate and other physical and mechanical properties. However, it can be used under the service temperature of 600℃. Besides, this type panel possesses the outstanding feature of being level A incombustibility, thus rock wool sandwich panel serviceable range is expanded to light weight construction materials for high requirement on fire-protection rating.
2.Product Details
| | |
| --- | --- |
| Usage | Steel Structure workshop,warehouse,office or so on. |
| Size | length*width*high, and the ridge height, slope |
| Standard | China Standard,England Standard,America Standard or Australia Standard(please supply the detail date) |
| Crane | Do you need the crane?If you need please tell me the loding. |
| Country | Which country that the building will be? |
| Design load | Wind speed, Snow load, Earthquake |
| Wall and Roof | Steel sheet or sandwich panel |
| Insulation | Fiber glass, EPS,Rock wool,PU,please tell me the thickness |
| Surface | Painted (alkyd paint or Epoxy paint) ,Hot dip galvanize |
| Window | Quantity, material, dimension (W*H) and position |
| Door | Quantity, material, dimension (W*H) and position |
| Accessories | Down pipe, Out gutter, Ventilator, skylight etc. |
3.commonly used in steel and steel properties:
1) carbon structural steel: Q235B, Q345B, etc..
2) high strength low alloy structural steel;
3) high quality carbon structural steel;
Special steel of alloy structural steel 4;
5) special purpose just;
6) walls and roofing materials are optional: corrugated steel plate, EPS sandwich plate, rockwool sandwich plate and polyurethane sandwich plate.
4.Service flow path
Discussing Project——Design Plan Drawing——Budget & Quote——Confirm Drawing&Quotation——Sign the Contract——Make the shop Drawing——Manufacturing——Transportation——Shipping——Foundation Ready——Guidance Installation——Finshed Installation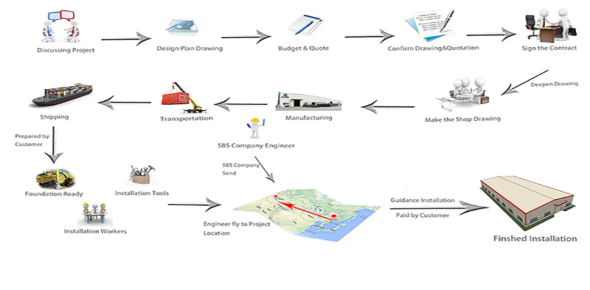 Required Shear Strength
The required shear strength of the connection shall be based on the load combinations
in the applicable building code that include the amplified seismic load. In
determining the amplified seismic load the effect of horizontal forces including overstrength,
Emh, shall be taken as:
Emh = 2[1.1RyMp]/Lh (E2-1)
where
Lh = distance between beam plastic hinge locations as defined within the test
report or ANSI/AISC 358, in. (mm)
Mp = FyZ = nominal plastic flexural strength, kip-in. (N-mm)