Prefab steel structure warehouse expandable and relocatable, Panel Built exterior modular walls allow for future growth and mobility. The system's flexibility to withstand hurricane and earthquake conditions, speed of project construction, as well as its ability to meet tough building codes, makes it a smart choice for equipment enclosures, crane or fork-liftable metal buildings, guard shacks, storage buildings, or even a large modular office building or commercial facility.
There are no special restrictions or requirements on member width-to-thickness ratios or member stability bracing, beyond meeting the requirements of the Specification. Although not required, the judicious application of width-to-thickness limits and member stability bracing requirements as specified for moderately ductile members in Section D1 would be expected to improve the performance of OMF.
applicability
The normal use of the limit state is designed to ensure the suitability of the structure. The specification requires the structural system as well The corresponding members shall have sufficient rigidity to limit their deflection, lateral displacement, vibration, and other possible effects
Structure of the normal use and beautiful deformation.
Self-strain
Design should be considered due to differences in the underlying settlement, temperature changes, humidity changes, shrinkage, creep, etc. It is similar to the factors that cause the structure of the external deformation or constraints.
1.Steel Structure Material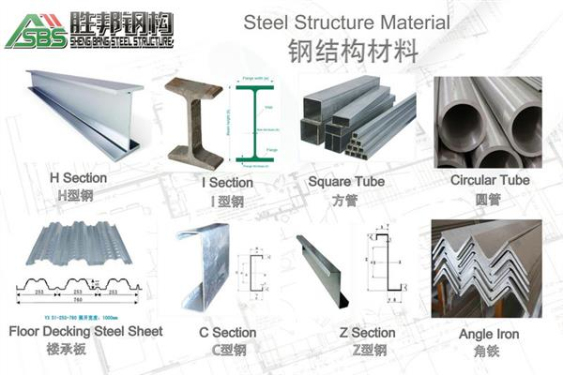 H section steel is an economic efficient section material with optimized cross section area allocation and more reasonable ratio of strength to weight. It is named because of its letter "H" cross section. Since its different parts are of orthogonal configuration, h-beam has advantage of good bending capacity, simple construction, cost saving and structure light weight etc., has been widely used.
H-beam is divided into five types: The flange wide type,the narrow flange type,thin-wall h-beam type and H sectiom steel pile type.
C steel was processed after hot rolling and cold bending. Its characteristics are: thin wall, light weight, good cross section performance, high strength (compared with the traditional steel) and can save 30% materials compared with the equivalent steel.
C type steel is widely used in purlin and wall beam steel structure building, also can combined into lightweight roof, carrier construction, etc. In addition, it can also be used for machinery and column, beam and arm light industrial manufacturing.
2.Product data
Item Name

Steel structure building

Size

Length, Width, Roof height and Eave Height

Roof and Wall

PU, EPS, Rock Wool sandwich panel

Door and Window

PVC or Aluminum Alloy

Column and Beam

Hot rolled H section , I section or Galvanized

Purlin

C-Section and Z-section

Surface

2 primer and 1 finished paint

Local Climate

1. wind speed 2. Rain load 3. Snow load 4. Earthquake grade if any, etc.

Crane parameter

If need crane beam, parameter is in need.

Drawing

1. Quote as clients' drawing

2. Design as per clients' requests.

Package

In container or as per requests.

Load in

20 ft', 40 ft' GP, /HQ/OT container
3.Steel Structure Warehouse Advantages:
1) Wide span: Single span or multiple spans, the max span clear distance is 36m, without middle column.
2) Low cost: Unit price range from USD35 to USD70/square meter FOB according to customer's request.
3)Fast construction and easy in installation.
4)Long service life: More than 50 years.
5)Environmental protection, stable structure, earthquake resistance, water proofing, and energy saving.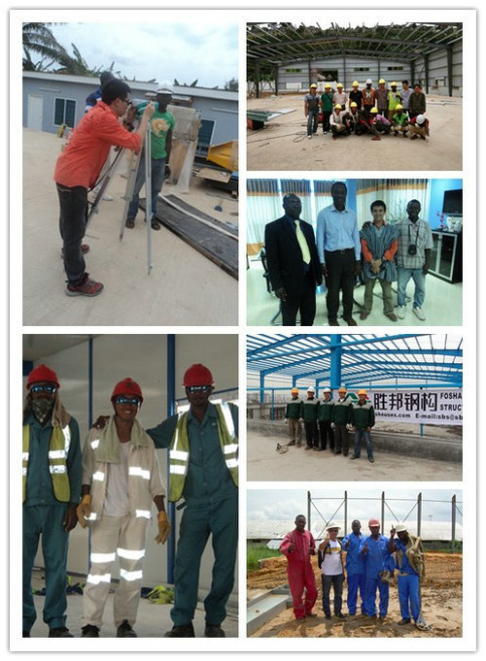 5.Application range
Steel structure can use the Industry,Agriculture,Business.Steel Structure can do the warehouse,workshop,garage,hangar,platform,equipment warehouse,barn,stock farm,cinema,supermarket,office,villa,house and so on.
The structural steels that are explicitly permitted for use in seismic applications have been selected based upon their inelastic properties and weldability. In general, they meet the following char acteristics: (1) a pron ou nced st ress-st rain pl ateau at the yield stress; (2) a large inelastic strain capability [for example, tensile elongation of 20% or greater in a 2 in. (50 mm) gage length]; and (3) good weldability. Other steels should not be used without evidence that the above criteria are met. For structural wide flange shapes, ASTM A992 and ASTM A913 additional supplementary requirements provide a limitation on the ratio of yield stress to tensile stress to be not greater than 0.85.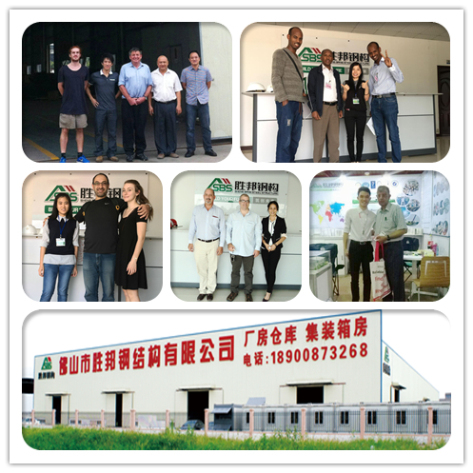 The majority of welded connection applications in buildings are in temperaturecontrolled settings. Where connections are subjected to temperatures of less than 50 °F (10 °C) during service, additional requirements for welding filler
metals are necessary for demand critical welds to ensure adequate resistance to fracture at the lower service temperatures.
Support on the connection
Each beam, stringer or truss is directly connected to the support member or designed to be thick, they need the plates are connected, there is a rigid connection that can resist the horizontal load acting on the parallel direction of the members. even
The accessory shall be provided with a value of 5% of the unsupported constant load plus the live load applied to the support member.