Steel apartment
1. The detail material for the steel structure
The steel structure material is included the H section,I section,Square tube,Circular Tube,Floor decking steel sheet,C section,Z section,Angle iron , Steelbar ,Steel plate.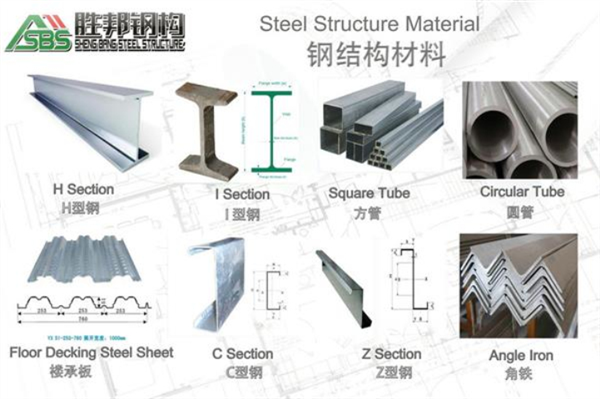 I beam
Hot rolled ordinary joist steel, also called steel beam, is strip steel with I-shape section.
Hot rolled I-shape beams can be divided into common i-steel and light beams.
Common i-steel
Main purpose: Ordinary beams are widely used in various building structures, Bridges, vehicles, support and machinery, etc.
Light beams
Flange of common i-steel and light beams are gradually becoming thinner from root to the edge with certain angle. Compared with ordinary beams, hot rolling light beams has wider leg and thinner waist in same wait height conditions. Guaranteed the bearing capacity, the light beams have better stability, metal saving and better economic effect than ordinary beams
Main use: The same with ordinary beams, it is mainly used in factories, Bridges and other large structures and vehicle manufacturing, etc.
2. Product details
| | |
| --- | --- |
| Main structure | Steel Welded H Section |
| Purlin | C Section Channel or Z Section Channel |
| Roof Cladding | Sandwich Panel or Corrugated Steel Sheet with Fiber Glass Wool Coil |
| Wall Cladding | Sandwich Panel or Corrugated Steel Sheet |
| Tie Rod | Circular Steel Tube |
| Brace | Round Bar |
| Column & Transverse Brace | Angle Steel or H Section Steel or Steel Pipe |
| Knee Brace | Angle Steel |
| Roof Gutter | Color Steel Sheet |
| Rainspout | PVC Pipe |
| Door | Sliding Sandwich Panel Door or Metal Door |
| Windows | PVC/Plastic Steel/Aluminum Alloy Window |
| Connecting | High Strength Bolts |
| Packing | Can be loaded into 40ft'GP/HQ/OT, or 20 ft'container. |
| Drawing | We can make the design and quotation according to your requirement or your drawing |
3. Advantages
1) Features: fast and flexible to assemble, safe, thermal and noise insulation, water proof and fire prevention;
2) Cost-effective: Fast and easy installation greatly shorten the construction time which reduce the costs
3) Durability: The whole structure is easy in maintenance, which can be used for more than 50 years.
4) Perfect design: Perfect design completely avoids leaks and water seepage. Meanwhile, it's also in line with the national level of fire prevention.
5) Carrying capacity: can resists the impact of strong wind and seismic performance and bears heavy snow loads.
Due to the above advantages, combination of light china steel building structures in construction engineering, railway, petrochemical industry, water conservancy construction highway construction and military engineering and earthquake relief in the fields of temporary is widely used in construction.
4. steel structure design common specifications are as follows:
1) "technical specification for cold formed steel structures" (GB50018-2002)
2) "just construction quality acceptance" (GB50205-2001)
3) "for the welding of steel structure technical specification" (JGJ81-2002-2002 J218)
4) "technical specification for steel structure of high rise civil building" (JGJ99-98)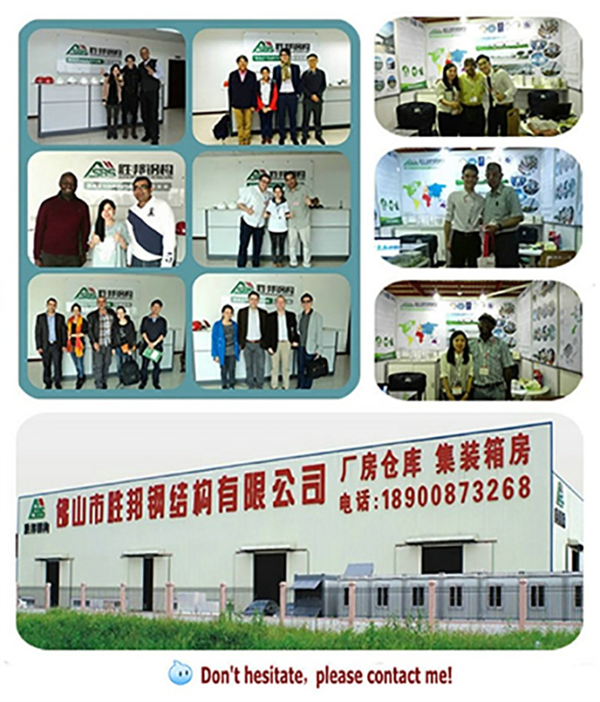 5. commonly used in steel and steel properties:
1) carbon structural steel: Q235B, Q345B, etc..
2) high strength low alloy structural steel;
3) high quality carbon structural steel;
4) Special steel of alloy structural steel;
5) special purpose just;
6) walls and roofing materials are optional: corrugated steel plate, EPS sandwich plate, rockwool sandwich plate and polyurethane sandwich plate.
Steel Buildings have many advantages that make them one of the most appealing solutions to needing space and the benefit of reduced necessary on site construction time translates to impressive overall cost savings.Our specialists are industry-leading experts and undergo extensive training on building design, efficiencies and the erection process.