Steel structure hangar
1. Steel structure hangar Meterial
Steel structure hangar building formed by Steel Column , Steel Beam ,Bracing ,Purlin , all the Steel Structure Fabricated in Workshop and delivery to Project site , quickly installation , green building and save manpower.
Steel structure hangar building could used for a wide range of project needs – from commercial (Car Shed ,Exhibition Hall ) to agricultural (metal barns, storage sheds) to industrial (Workshop, equipment storage).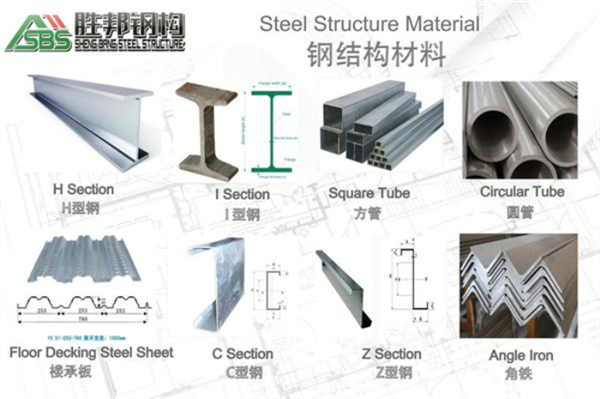 In addition to superior sturdiness, airplane hangar requirements are characterized by the necessity for large areas of free floorspace. In a discussion of airplane hangar valuation, produced for Appraisal Journal, Timothy Lindsey discusses the variety of designs employed to accomplish this: "Common structural systems used to achieve a large free span include trusses, rigid frames, long-span open web-joists, and cantilevers. Some of the tallest and largest free-span buildings are arch truss systems."3 Manufacturers of prefabricated metal buildings have employed engineers to achieve all of these precise requirements, bringing together large free floor space, unparalleled sturdiness & load-resistance, fire and weather-proofing, and warrantied long-lasting durability, all at astonishingly low prices when compared to building from any other available material. Finishing options are endless, though business minded individuals with an eye to saving money on insurance, can get the very highest insurance credit rating by going with a metal hangar building, whose exterior walls have been finished with an attractive ultra-combustion-resistant masonry exterior.
2. Product details
Lifting capacity(t)

t

5

10

Span(m)

s

10.5-31.5

10.5-31.5

Lifting height(m)

16

16

Trolley moving speed(m/min)

37.2

43.8

Trolley lifting speed(m/min)

A5

12.5

8.5

Crane running speed(m/min)

A6

15.5

13.3

A5

89.8 92.3 89.8 91.9 84.7

A6

116.2 117.4 115.6 116.8 112.5

Power source

A.C380V 50HZ 3-Phase
3. Advantages
1) Features: fast and flexible to assemble, safe, thermal and noise insulation, water proof and fire prevention;
2) Cost-effective: Fast and easy installation greatly shorten the construction time which reduce the costs
3) Durability: The whole structure is easy in maintenance, which can be used for more than 50 years
4) Perfect design: Perfect design completely avoids leaks and water seepage. Meanwhile, it's also in line with the national level of fire prevention.
5) Carrying capacity: can resists the impact of strong wind and seismic performance and bears heavy snow loads.
Due to the above advantages, combination of light china steel building structures in construction engineering, railway, petrochemical industry, water conservancy construction highway construction and military engineering and earthquake relief in the fields of temporary is widely used in construction.
4.It's not just a subscription of a publication but also a bunch of several valuable services provided free of cost to its subscribers which saves his time and money in searching of latest technological developments in civil construction, equipment & machinery, waterproofing solutions, concrete admixtures, building materials, and keeps him up-to-date on newer trend, products and technologies being offered/introduced in china market.You can also send us your products enquiries which will be forwarded to manufacturers to get a best quote for you, and saves your valuable time and give you an opportunity to use largest data base of manufacturers.
5.You can choose from a wide range of standard door options, including 8-leaf, bi-parting systems and floating door systems. You also can add powder coating for extra protection and color for your clear-span support system. Choosing a tension fabric structure with flame-resistant fabric and fire suppression systems is easy - as is picking a design to accommodate windows and/or HVAC, electrical, and security systems.Leading the world in fabric buildings,SBS Structures has specially designed portable airplane hangars for planes, helicopters, and even hot-air balloon storage. These highly versatile aircraft hangars are in-stock, and ready for deployment to your location.