Sandwich assembled container house
sndwich panel assembled type container is extensively used in many construction areas.The size conforms to international standard of container house. Design structure and connection details are adapted to hoisting,transportation,fast assembled and reusage.The house is composed of sandwich panel in rppf and wall and steel framework. As a result, container house has the features of light construction module versatility. The thickness of the thermal insulation material and heat insulation for roof tile,floor and wall body of container house can be changed by different usage. The sandwich panel assembled type container house is excellent in quality and reasonable in price so that it has enjoyed high praises from the market.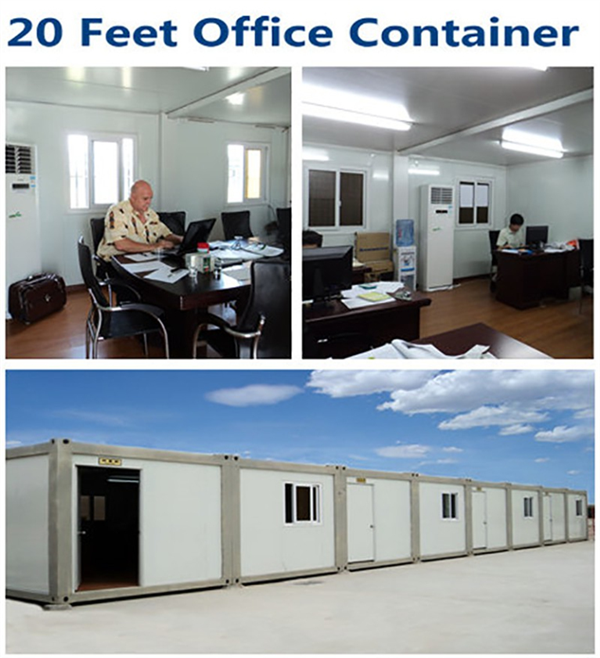 1. Product Detail information
1) Steel Structure Panel material
The steel structure panel material included EPS sandwich panel,Rock wool sandwich panel,PU sandwich panel,fiber-glass ,steel sheet.
Steel structure panel material: including wall panel and roof panel
Sandwich core materials: EPS, PU, rock wool, glass wool
Thickness of sandwich panels: 50mm, 75mm, 100mm, 150mm
Single color plate material thickness: 0.376mm, 0.426mm, 0.476mm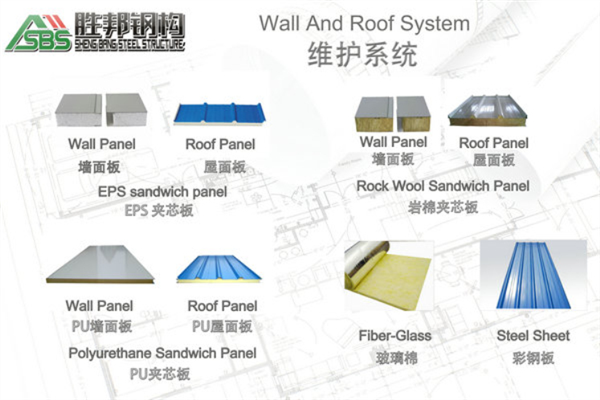 Frame Selection
Selection of the type of frame to use for a building generally involves consideration of cost, architectural flexibility, and performance. Since both frames are suitable to resist the combined effects of gravity and lateral loading, we began our selection based on construction cost. The two tables below present the material cost for each frame.The unit price accounts for the bare material cost, labor, equipment and profit of the contractor. The pricing represents the cost of moment frames and braced frames for one side of the building with two braced frames and one rigid frame to resist against lateral loads.
1) Z-Section Sheet
Z steel is common cold bending thin-wall steel, whose thickness is commonly between 1.6-3.0mm, section heights between 120-350mm. Processing materials is hot rolled (paint), galvanized. It is processed according to perform standards. Z steel is usually applied in large steel structure factory building.
2) Hot rolled I-shape beams can be divided into common i-steel and light beams.
Common i-steel
Main purpose: Ordinary beams are widely used in various building structures, Bridges, vehicles, support and machinery, etc.
Light beams
Flange of common i-steel and light beams are gradually becoming thinner from root to the edge with certain angle. Compared with ordinary beams, hot rolling light beams has wider leg and thinner waist in same wait height conditions. Guaranteed the bearing capacity, the light beams have better stability, metal saving and better economic effect than ordinary beams.
Main use: The same with ordinary beams, it is mainly used in factories, Bridges and other large structures and vehicle manufacturing, etc.
2. PRODUCT DETAILS
| | |
| --- | --- |
| Usage | Steel Structure workshop,warehouse,office or so on. |
| Size | length*width*high, and the ridge height, slope |
| Standard | China Standard,England Standard,America Standard or Australia Standard(please supply the detail date) |
| Crane | Do you need the crane?If you need please tell me the loding. |
| Country | Which country that the building will be? |
| Design load | Wind speed, Snow load, Earthquake |
| Wall and Roof | Steel sheet or sandwich panel |
| Insulation | Fiber glass, EPS,Rock wool,PU,please tell me the thickness |
| Surface | Painted (alkyd paint or Epoxy paint) ,Hot dip galvanize |
| Window | Quantity, material, dimension (W*H) and position |
| Door | Quantity, material, dimension (W*H) and position |
| Accessories | Down pipe, Out gutter, Ventilator, skylight etc. |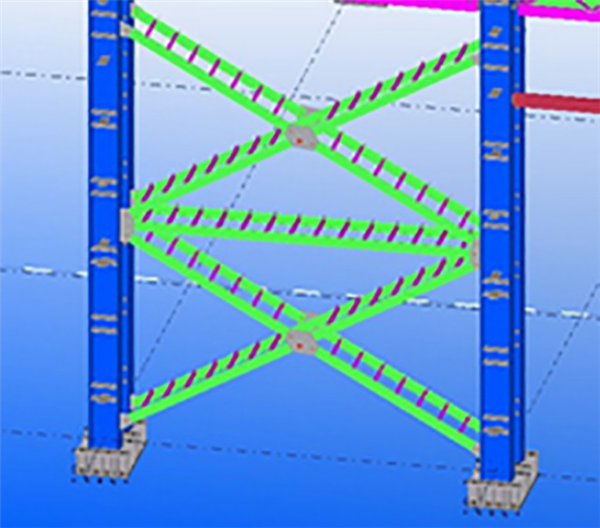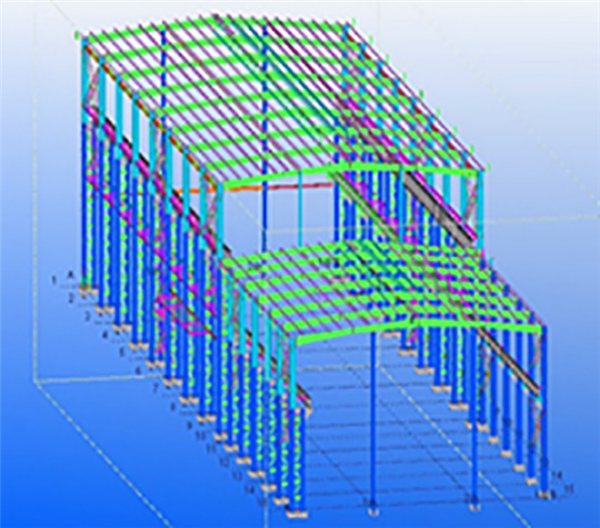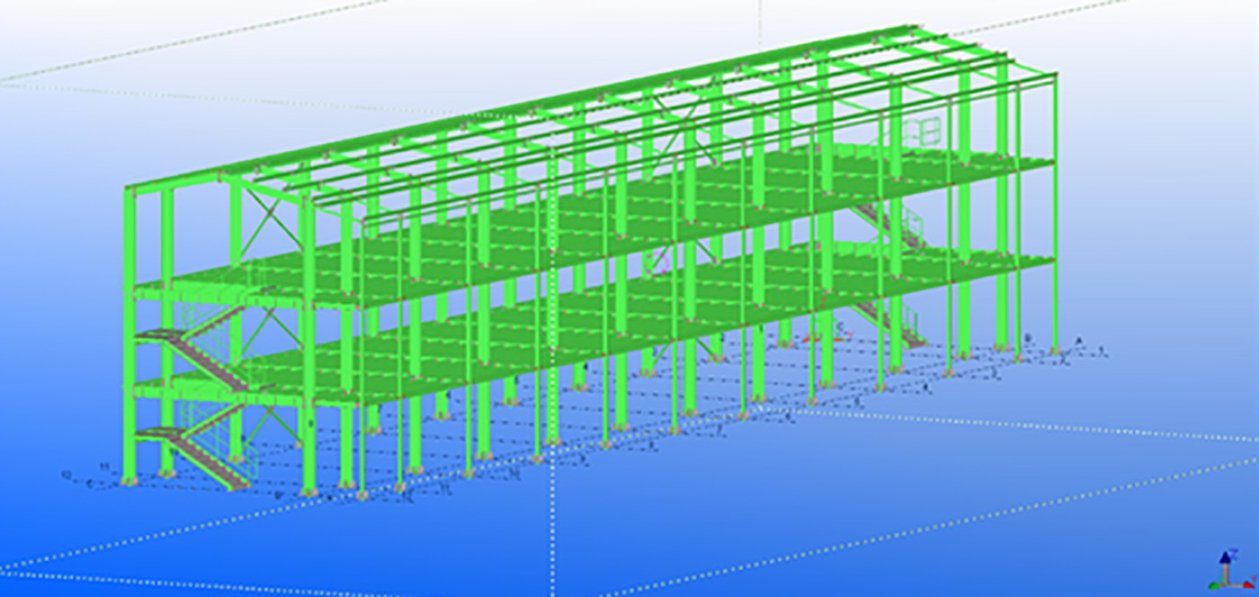 3. Service flow path
Discussing Project——Design Plan Drawing——Budget & Quote——Confirm Drawing&Quotation——Sign the Contract——Make the shop Drawing——Manufacturing——Transportation——Shipping——Foundation Ready——Guidance Installation——Finshed Installation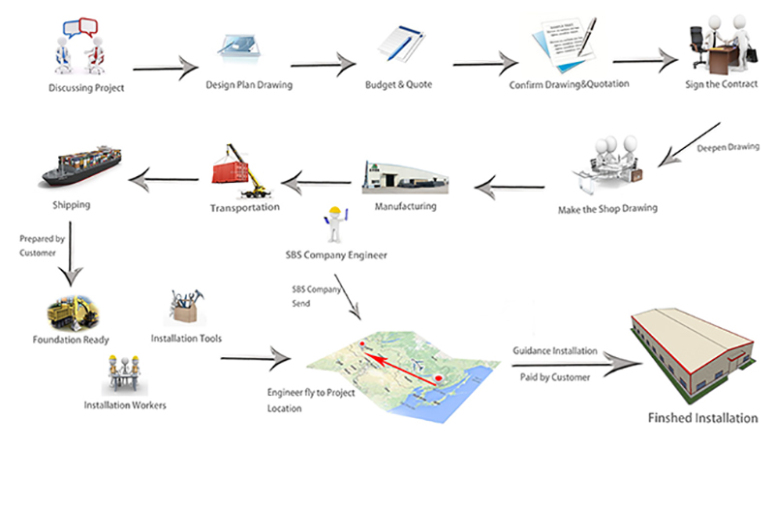 Lateral Loading
All buildings are susceptible to some amount of lateral force due to wind. Some regions have exceptionally high winds, while others have virtually none compared to other types of lateral forces and can be dismissed. Wind loads primarily affect the lateral bracing system via drag and positive and negative pressures. The majority of the wind load is on surfaces facing and receiving the wind directly, creating a high positive pressure. The leeward side of a building experiences a negative pressure or suction effect. Adding to the positive pressure is the drag on
the building in the direction of the wind. After the wind strikes the building it continues to the leeward side creating the drag force.