New-Info
Growth of Steel Buildings
China has produced some of the best steel structures company and Foshan Shengbang Steel Structure Co., Ltd. Is one of the largest steel building materials supplier and one of the most popular steel building parts supplier known across the globe. Since 2013, China was the largest manufacturer of steel, producing around 779 million metric tons each year which is, approximately 3.14 cubic meters produced each second. What catapulted this industry? Sustainability, economic growth and development as well as environmental issues, were the major contributing factors.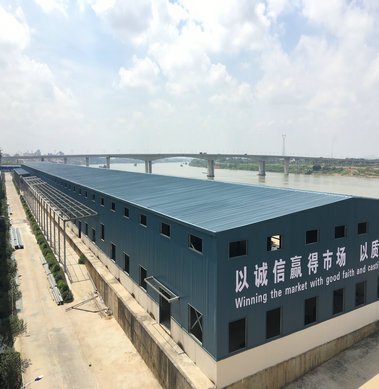 Steel first started to emerge when it was used to build train stations which eventually led to the first steel-framed building and skyscrapers taking form in the late 1800s. By the time the 2oth century rolled around and World War II started, the military began using steel to secure their storage facilities and shelters. After the war, the popularity of steel really kicked off and it became the universal standard and easily acceptable, with one of the most iconic landmarks, the Empire State Building, being erected using steel as the main material. By the late 20th century, steel was used to expand new frontiers, used to construct railroads across remote locations and worldwide.
Now, in the 21st century, steel has taken on new dimensions. The material itself is one of the world's most trusted for buildings and infrastructure that it is not surprising that the steel industry continues to expand and evolve, discovering and innovating on the capabilities of the metal. Steel has become so versatile that is being used in building foundations, floor decking, roof and walls, electric panels, hardware brackets, appliances and so many more. Construction companies started combining steel with glass and other construction material to build stronger infrastructure but with the advancement of technology, buildings are constructed entirely out of this material, giving more toughness, high-elastic limits, weldability and the capacity to withstand high temperatures, harsh conditions and major natural disasters.
The steel material itself is eco-friendly, as most of yesterday's steel material from buildings are being recycled and re-used into buildings of tomorrow. Steel building companies are popping up across the globe and it is the material of choice for industrial buildings, commercial buildings and now, residential homes. The best steel structures company like Foshan Shengbang Steel Structure Co., Ltd., have started to customize steel panels and sheets according to your building design. The even offer a construction team to help you put your building together or you can do it yourself by following the instructions sent together with the steel building parts and materials.
Any building or design you dream up, can be customized with this steel building materials supplier. Repairs and maintenance are virtually non-existent but as a steel building parts supplier, SBS can provide any parts you need or if you wish to extend or redesign your existing structure. Because of the longevity of steel, it is hardly likely that you would ever need to replace your roof, walls or flooring for generations to come.