steel Structure Warehouse in Oman
the first construction of china mechanical industry company-oman warehouse
specification:30m*80m*6m(W*L*H)+17.1m*12m*3m---2605㎡
1、Prefabricated steel warehouse construction
Shengbang's steel structure warehouse features of high fire resistance, strong corrosion resistance. Our company is specializing in designing and manufacturing Steel Structure Warehouse,Prefabricated Steel Warehouse,Prefab steel structure warehouse,Large Span Steel Structure Warehouse,Light Steel Frame Warehouse Building,etc. Industry steel structure warehouse usually made of steel beams, steel columns, steel trusses and other components of the composition; each component using welds, bolts or rivets to connect.
2、Product details
| | |
| --- | --- |
| Main structure | Steel Welded H Section |
| Purlin | C Section Channel or Z Section Channel |
| Roof Cladding | Sandwich Panel or Corrugated Steel Sheet with Fiber Glass Wool Coil |
| Wall Cladding | Sandwich Panel or Corrugated Steel Sheet |
| Tie Rod | Circular Steel Tube |
| Brace | Round Bar |
| Column & Transverse Brace | Angle Steel or H Section Steel or Steel Pipe |
| Knee Brace | Angle Steel |
| Roof Gutter | Color Steel Sheet |
| Rainspout | PVC Pipe |
| Door | Sliding Sandwich Panel Door or Metal Door |
| Windows | PVC/Plastic Steel/Aluminum Alloy Window |
| Connecting | High Strength Bolts |
| Packing | Can be loaded into 40ft'GP/HQ/OT, or 20 ft'container. |
| Drawing | We can make the design and quotation according to your requirement or your drawing |
3、Product Detail information
1)Steel Structure Panel material
The steel structure panel material included EPS sandwich panel,Rock wool sandwich panel,PU sandwich panel,fiber-glass ,steel sheet.
Steel structure panel material: including wall panel and roof panel
Sandwich core materials: EPS, PU, rock wool, glass wool
Thickness of sandwich panels: 50mm, 75mm, 100mm, 150mm
Single color plate material thickness: 0.376mm, 0.426mm, 0.476mm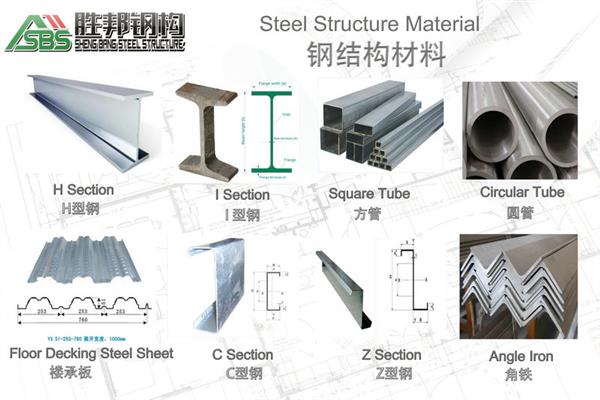 4.Transportation
Steel structure is mainly composed of steel column, steel beam, steel frame and the rigid support and so on, so steel structure component volume is larger, The mainly transportation for export is as follow:
1). Seaworthy
In general, after customer order, our engineering technology department design the steel structures will be according to the 40 'HQ and 40' open top container inside size to design the shipment, in most cases, we use 40 'HQ and 40' open top shipping container shipment to pack steel structures.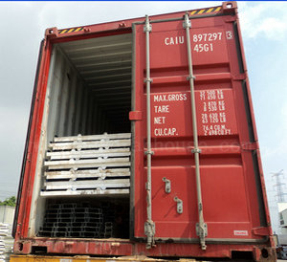 2).Package for the steel frame
If you want to use the 40 HQ container to transportation the whole steel structure product. You can do the steel frame to package ,use the cable wire to fix. But you must paid for the steel frame and baling charges.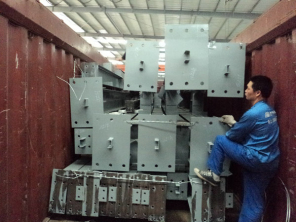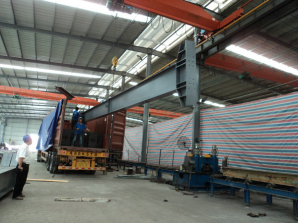 5. project note:
1.if the ring beam can not connect the column footing completely,the size of the column can be increase approprlately,but the original design can be affected.please send it back to our eniginal to confirm if you have any question.
2.This approach only for mainland china general pracitices,the owner should determine whether it apply to this projects according to the local soil conditions.
3.the free advice and practices above,we shall not be liable for any direct and indirect responsibility.
foundation pit C10 subcrust 100 thick,the other concrete is C25.
Similarity requirements are given in terms of measured axial yield strength of both the prototype and the test specimen braces. This is better suited to manufacturer's product testing than to project-specific testing. Comparison of coupon test results is
a way to establish a similarity between the subassemblage test specimen brace and the prototype braces. Once similarity is established, it is acceptable to fabricate test specimens and prototype braces from different heats of steel.